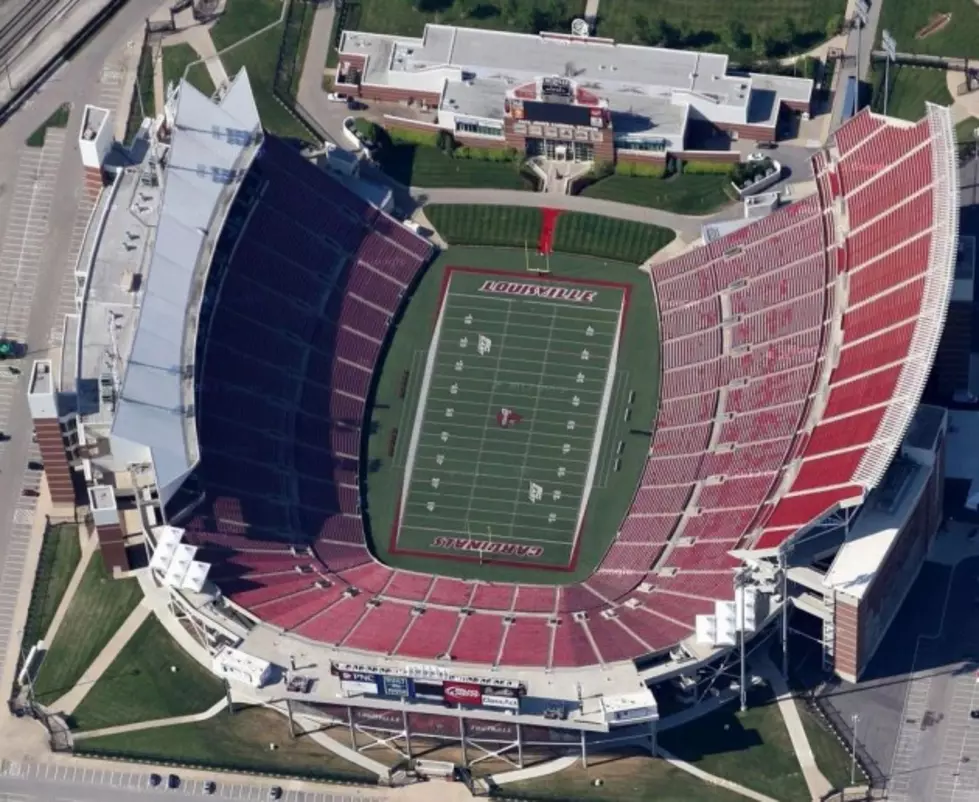 Reitz Travels to Louisville for Week Two of High School Football [PREVIEW]
After last year's trip resulted in an exciting 28-21 win over a consistently strong Paducah-Tilghman team, the Panthers return to the the annual Click it or Ticket Bluegrass High School Football Showcase on Saturday at Papa John's Cardinal Stadium on the University of Louisville campus looking for their second win of the season against the Louisville Central Yellow Jackets.
Reitz is coming off an opening week win against the hosting Henderson County Colonels which saw the Panthers come from behind on a 66-yard screen pass from quarterback Drew Johnston to running back Ke'Andre Vaughn with 7:55 left in the game to seal the 29-23 victory.
Just like their city and SIAC counterparts, Mater Dei and Central, Reitz has its own share of new faces replacing graduated seniors. At the quarterback position, Drew Johnston, a backup since his sophomore year, steps into the starting job after the departure of wide receiver turned quarterback Nate Tidwell. In his first game as starter last week against the aforementioned Henderson County, Johnston had three completions on seven attempts for 85-yards and the one touchdown pass to Vaughn while adding 72 yards on the ground in 15 attempts as the Panther's seemed to focus more on establishing a sound running game.
That running game was and will be led once again this season by senior Ke'Andre Vaughn, a three year starter and second generation Panther (his father, Andre was an all-state running back for Reitz in 1992). The younger Vaughn, coming off a 2011 season where he racked up 1,607 rushing yards and 14 touchdowns, contributed 65 yards on 15 attempts which included a 33-yard touchdown run in the win over the Colonels.
When all was said and done, the Panthers put up 356 rushing yards and only 81 through the air. Expect to see more of the same Saturday morning when they take on the Yellow Jackets of Central High School in Louisville. A team who has won four of the last five Kentucky Class 3A state titles under head coach Ty Scroggins. The Yellow Jackets are looking to replace All-State running back Anthony Wells who took his talents to Western Kentucky University in Bowling Green after accumulating 8,213 yards and scoring 123 touchdowns during his four-year stint with the team.
Outside of a few hefty linemen (junior Paul Martin stands 5'10" and weighs in at 341 pounds), the Yellow Jackets field a team comprised mostly of tall and lightweight players at the skill positions meaning they are a team built for speed which could cause some major headaches for the Panthers' defensive backs if they're not prepared. However if there's anything I've learned over the past two seasons of providing color commentary for Newstalk 1280's coverage of high school football, it's that no one should ever count the Panthers' out. There's a saying that goes, "Great teams find a way to win," and that's certainly the case with Reitz as head coach Tony Lewis has done a tremendous job over his four year tenure with the team of getting the most out of his players and getting them to find ways to win.
On a personal note, the ability to call the game from a Division 1, college stadium is a big thrill for me. As one half of the play-by-play coverage, my partner and I, Jimmie Ford, can only go where the teams go which during the regular season isn't a issue as we have some great high school football fields (and press boxes) here in the Evansville area. It's when we head into post-season play when the conditions can be a toss-up, especially with some of the smaller school's in Class 2A. Generally, these schools are out in the middle of corn fields with a press box that is little more than a small trailer bolted to the top of the bleachers.
As much as I'm sure the players are in awe of a big name college locker room, I get equally geeked-out over the ability to see the behind the scenes workings of a major stadium. To see where other broadcasters I've listen to on the radio or have seen on TV sit and do their job each week adds another level of excitement for me. In the case of Papa John's Stadium in Louisville it will be a return trip to a stadium I helped build — sort of.
Quick side story, back in high school I worked for a company called Builder's Specialty and Hardware which was located at the top of the hill on the corner of North St. Joseph Avenue and Mill Road in front of the American Red Cross. We built steel door and window frames for commercial construction companies as well as sold steel and wood doors along with all the hinges, handles, closers, etc. that go along with it.
While part of my job was helping out in the welding shop and any odd jobs needed around the warehouse, my primary responsibility was delivering the materials to job sites, one of which being Papa John's Stadium back in 1997-1998. So while I didn't necessarily turn a screw, pour concrete, or install a seat, I did provide the materials necessary for people to have "closed-door" meetings and some privacy when mother nature calls.
The game kicks off at 10am Evansville time which is early by high school football standards, however the early time will also means the game should be wrapped up by the time the temperature reaches its forecast-ed high of 92-degrees if you plan on making the just-under two hour drive to the game.