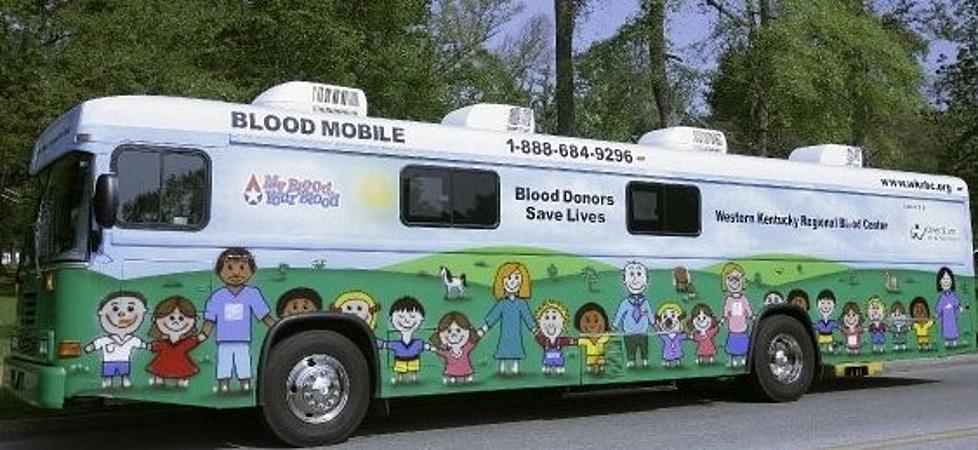 Local Owensboro Organizations Hosting Save Our Summer Blood Drive
WKRBC
The Western Kentucky Regional Blood Center has teamed up with several Owensboro organizations to host Save Our Summer Blood Drive and you're encouraged to donate.
WHO THE WKRBC SERVES
The WKRBC has been serving this part of Kentucky since 1978.  Many people don't realize they not only serve Owensboro but a total of seven counties in the region (Christian, Daviess, Ohio, Breckinridge, Crittenden, Caldwell, Hopkins, McLean, Trigg, and Hancock) and these hospitals;
HOW MUCH BLOOD IS NEEDED
In a year's time, almost 20,000 pints of blood are needed to cover this region.  The blood center collaborates with local businesses and organizations to help them gather this blood for willing and able individuals.
SERVICES PROVIDED BY THE WKRBC
According to the WKRBC website here are the following services provided through grants, fundraising, and your support:
Educational programs and health fair displays
Speakers for civic organizations and professional groups.
A state-of-the-art laboratory for testing and component preparation
A five-bed bloodmobile
The ability to hold internal blood drives at your facility or organization
Our main center at 3015 Old Hartford Road, Owensboro, KY and a sub-center located at 1902 South Virginia Street, Hopkinsville, KY
HOW YOU CAN PARTICIPATE IN S.O.S.
S.O.S. stands for Save our summer.  Folks in the community will have the opportunity to donate in the name of a particular organization that has been enlisted as a part of S.O.S.  This year the hosts are the Daviess County Fire Department, Daviess County Sheriff's Department, and the Chamber of Young Professionals.
ALWAYS BE IN THE KNOW
If you would like to be kept up to date with more information on a regular basis from the WKRBC sign up for their newsletter.
DONATING BLOOD
Angel here and I have been donating blood for years.  It only takes about 30 minutes to donate and you can save so many lives with your donation.  I always joke that the snacks are amazing but the lasting impact you leave is even better.  During S.O.S. you do not have to make an appointment you will be seen on a first come first serve basis.  Start a new tradition at work or with friends and donate together.  Make sure you are fully hydrated with water and it will make your visit much easier.
10 Health Benefits of Wine
Drinking wine, in moderation, can be good for your health.
SEE: 11 Routine Tasks That Makes the Calmest Person Nervous
10 Other Uses for Hand Sanitizer
I discovered hand sanitizer's ability to be more than just a germ-killing product one morning while making coffee in the kitchen at work. While pouring myself a cup from a full pot, a small stream dribbled down the side of the pot and onto the white countertop. I wiped it up with a paper towel, but a light brown stain still remained. A tried a disinfectant wipe which helped a little, but you could still faintly see where the dribble had landed. Then I remembered having alcohol wipes at one point during the pandemic. They had been used up and not replaced for some time, but there was still a bottle of hand sanitizer sitting out. I squirted a little on the stain, wiped over it with a paper towel, and boom, the countertop looked brand new. This got my curious mind wondering if there was anything else I could use it for, so it was off to the internet to see what I could find. It turns out, thanks to its high concentration of ethanol or isopropyl alcohol, hand sanitizer can be used for all sorts of things.
Six Things You Didn't Know Tea Bags Can Do