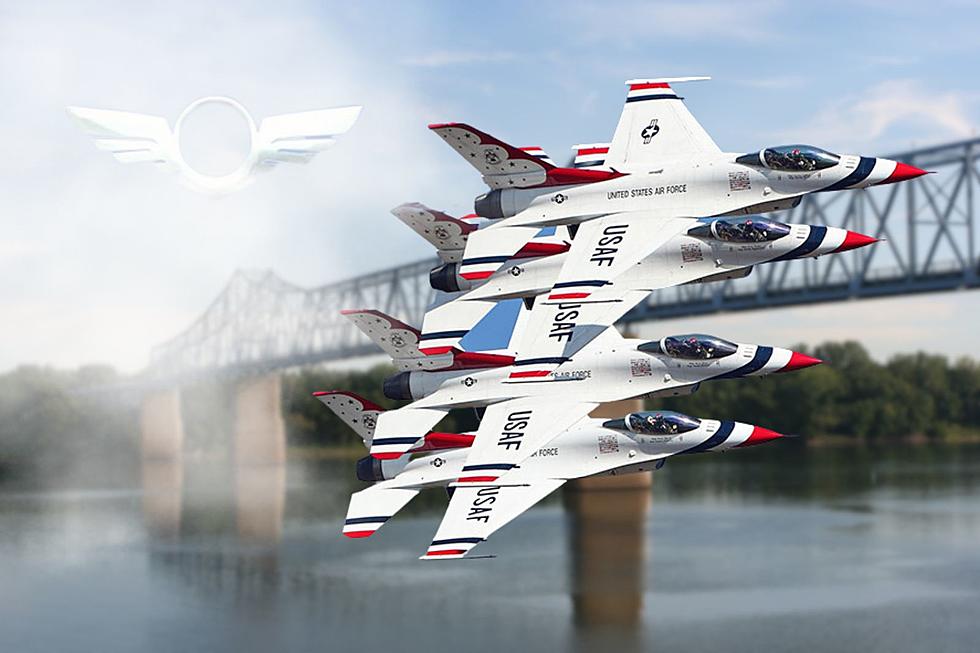 The U.S. Air Force Thunderbirds Headline Huge 2023 Air Show in Kentucky
City of Owensboro/CANVA
The 2023 Owensboro Air Show is coming up this weekend and it will again be headlined the U.S. Air Force Thunderbirds. The very first time the Thunderbirds came to town way back in 2015, I was fortunate enough to get the opportunity to ride along with them.
I have tried to explain over and over again just how exhilarating that ride was, but I always feel like my play-by-play fails to do it justice. So, watch this video from the inside the jet instead. We had a GoPro and we put together a highlight reel of the flight.
The Thunderbirds will again be flying over the skies downtown when the Owensboro Air Show returns for the first time since 2021. Joining the Thunderbirds will be a star-studded lineup of performers.   found videos of each one to give you an idea of what you can except when the show flies off the ground September 15th, 16th and 17th!
THE U.S. AIR FORCE THUNDERBIRDS
WINGS OF BLUE
KEVIN COLEMAN
BILL STEIN
TEAM AEROSHELL
ARMY AVIATION HERITAGE FOUNDATION
GHOST WRITER
ACE MAKER AIRSHOWS
VAMPIRE AIRSHOWS
FLAGSHIP DETROIT
The 2023 Owensboro Air Show is set from 1pm to 4pm on Saturday, September 16th and Sunday, September 17th. Admission both days is FREE and there are great vantage points all along the river.
The event officially kicks off at 4:30pm on Friday, September 15th with a preview party at the Owensboro-Daviess County Regional Airport. The entry fee for the Friday event is just $5.00 per person. Kids 12 and under are admitted for free as are military personnel and first responders.
The Friday event is your chance to meet some of the pilots in the show and experience a taste of the Owensboro Air Show in advance. The Friday event will feature a few performers and will conclude with a fireworks finale! Food trucks will be on site as well.
If you have additional questions or need more info about the 2023 Owensboro Air Show, you can CLICK HERE!
25 Photos of the Blue Angels That Will Blow Your Mind
Chris Conley, who owns 270 Drones Aerial Imagery, captured these incredible photos of the Blue Angels during their practice run for the 2021 Owensboro Air Show in downtown Owensboro, Kentucky.