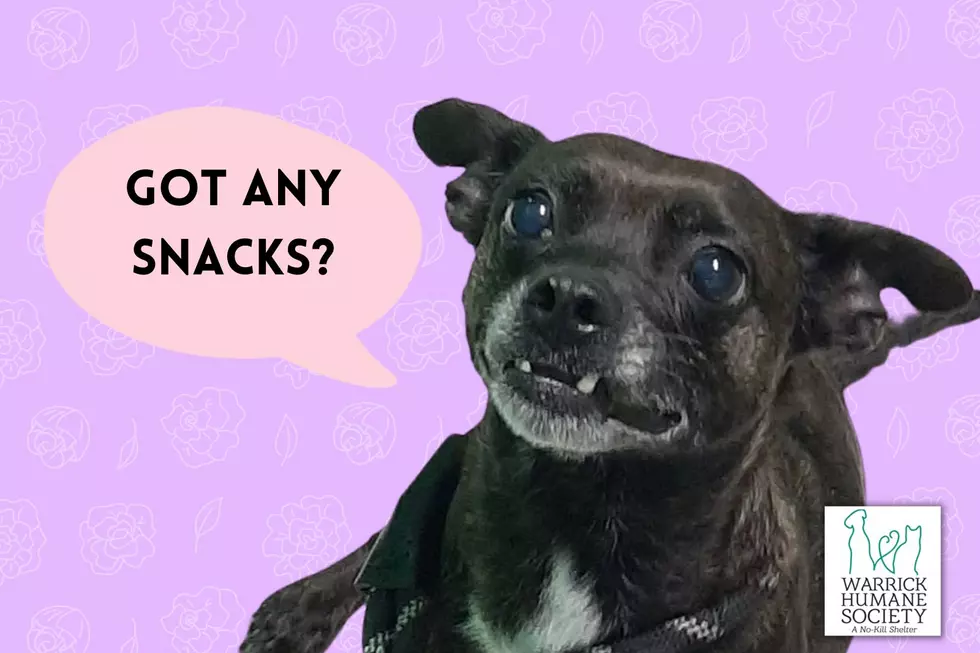 Nutella is a Small Adoptable Dog in Newburgh with a Big Goofy Grin
WHS
Small dog, people. Where you at? Warrick Humane Society has an adorable little black dog that is looking for a home. She's only 19 pounds and has the cutest smile! She's eight years young and did I say that sweet smile is just melting my heart?
If you are interested in adopting, fill out an adoption application or stop in and visit the pet of your choice.
GET DIRECTIONS
Phone: (812) 858-1132
HOURS
Mon: Closed to the public
Tue: Closed to the public
Wed: 12:00PM - 4:00PM
Thu: 12:00PM - 7:00PM
Fri: 12:00PM - 4:00PM
Sat: 12:00PM - 4:00PM
Sun: 12:00PM - 4:00PM
More Adoptable Pets from the WHS
MORE FROM THE WHS FACEBOOK PAGE:
WHS Supporters, we are in need of BLEACH! If you can donate any, we'd greatly appreciate it. We have a container on our porch for after-hours donations, too. Our staff and shelter animals thank you for your support!
LOW-COST VACCINE CLINIC 
Our next Low-Cost Vaccine Clinic is right around the corner on Tuesday, 2/7! The clinic is from 11AM -2PM (or later if pets are still being seen). Registration begins at 10AM and ends at 1PM. Registration is limited to the first 50 dogs or cats, and registration for the clinic is first come, first serve.
Please expect a potentially long wait, and plan your day accordingly. We can only see domesticated dogs and cats. No feral animals. For the safety of your pet, all dogs MUST be on a leash and cats MUST be in a carrier.
CASTLE CRAFT SHOW
Make plans to stop by the Warrick Humane Society booth on February 25th at the Women's Club of Newburgh Arts & Crafts show. We will be there will plenty of awesome handmade items, and all proceeds from items we sell benefit our Rescue Pets! We also plan to have a furry friend there for you to visit.
PET PHOTO CONTEST
We want to see your pets in our annual Pet Photo Contest! The contest runs through February 18th, and with your help, we can meet our $4,000 goal to help the animals in our care. First, second and third place win PAWSOME prize packages!
DOGGIE DATE WEEKEND
Find the love of your life this Valentine's Day at Doggie Date Weekend with WHS!
Here's how it works...
1: Fill out an Application online and in the "Pet You Are Applying For" field, put "Doggie Date Weekend". All approved applicants will be contacted to schedule an appointment time.
https://warrickhumanesociety.org/adoption/
2: Starting Friday, February 10th or Saturday, February 11th, attend your appointment to pick up your Date! Appointments will be scheduled first come first serve so all the dogs get a chance to meet their weekend Valentine.
3: Valid for fully vetted dogs over 6 months of age.
4: Drop Offs will be scheduled Sunday, February 12th from 9am - 3pm, Monday, February 13th from 9am - 1pm or Tuesday, February 14th from 9am - 3pm.
5: Fall In Love? Awesome! $50 Off the Adoption Fee for anyone that participates in Doggie Date Weekend!
12 Things Only a TRUE Dog Mom Will Understand
As a bonafide dog mom, it is no surprise how welcoming a canine friend into your home can change your life (and possibly persona) completely. Here is a list of things only a dog mom will understand.