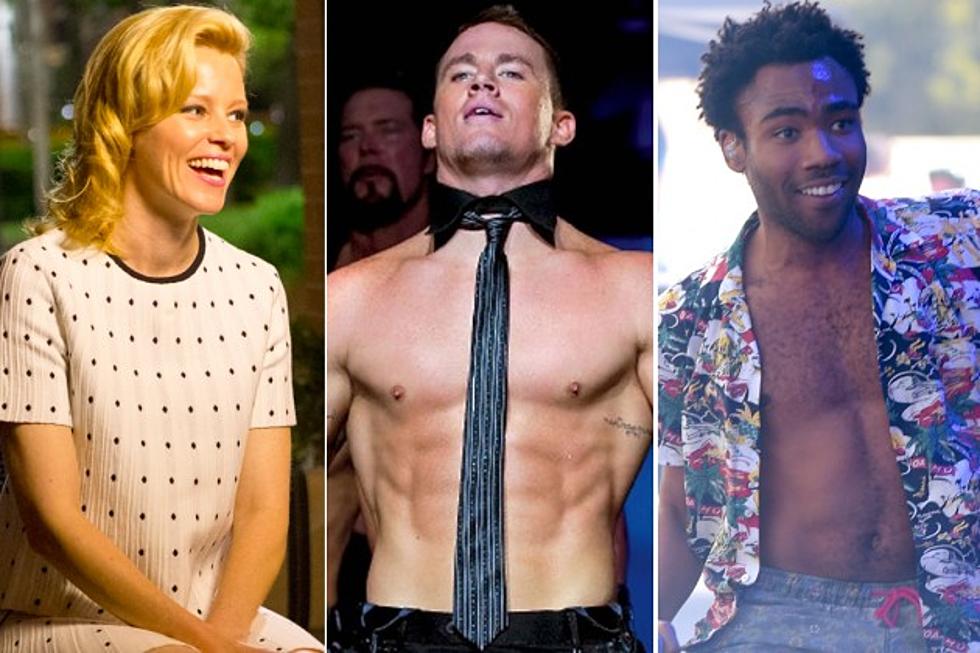 'Magic Mike 2′ Adds Elizabeth Banks, Donald Glover and More; Full Plot Revealed
Getty Images/Warner Bros./Getty Images
Remember how Elizabeth Banks had such a great time during the 2012 MTV Movie Awards, accepting one of those golden popcorn trophies from the 'Magic Mike' hunks? Now she's getting even more love from Channing Tatum and his crew with a role in 'Magic Mike 2,' which officially revealed the full cast roster and plot details.
Joining Banks and the previously revealed Amber Heard, Jada Pinkett Smith and Andie MacDowell are Donald Glover and Michael Strahan, all of which are playing new roles in 'Magic Mike 2' (officially titled 'Magic Mike XXL'). Of course, Tatum, Matt Bomer, Joe Manganiello, Kevin Nash, Adam Rodriguez and Gabriel Iglesias are returning, too, as production kicked off today. Unfortunately, Matthew McConaughey will not be back as Dallas, given scheduling conflicts.
Strahan made the announcement of his involvement to the 'Live with Kelly and Michael' audience, while Tatum revealed a new photo suggesting his character will finally start his own custom furniture business.
Better still, Warner Bros. released an official synopsis, where previously we only knew that 'Magic Mike 2' would see the boys on the road.
Picking up the story three years after Mike bowed out of the stripper life at the top of his game, 'Magic Mike XXL' finds the remaining Kings of Tampa likewise ready to throw in the towel. But they want to do it their way: burning down the house in one last blow-out performance in Myrtle Beach, and with legendary headliner Magic Mike sharing the spotlight with them. On the road to their final show, with whistle stops in Jacksonville and Savannah to renew old acquaintances and make new friends, Mike and the guys learn some new moves and shake off the past in surprising ways.
Although Steven Soderbergh, who directed the first movie, is not back in the director's chair, he will executive produce 'Magic Mike 2,' while his longtime collaborator Greg Jacobs is at the helm. Tatum is also stepping behind the camera as one of the producers, and he even contributed to the script.
So, what do you think, guys and gals? Is this cast loosening up your dollar bills? 'Magic Mike 2' is set to hit theaters on July 1, 2015.