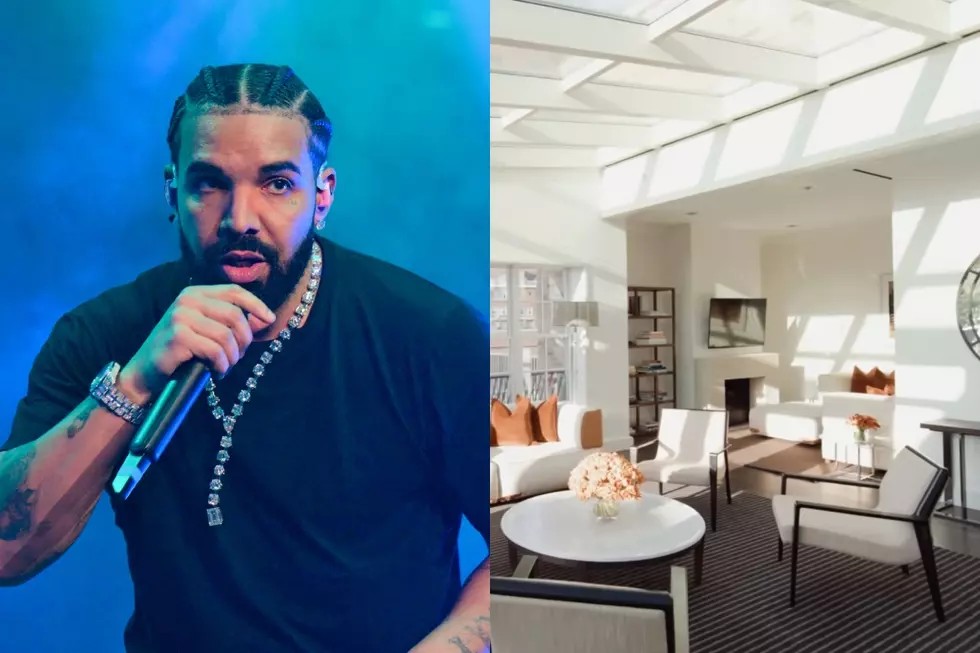 See the $75,000-a-Night Hotel Suite Drake Stayed in During His Apollo Shows
Prince Williams/Getty Images/The Mark Hotel/YouTube
Drake did it big for his two-night stay in New York City for his back-to-back shows at the Apollo Theater over the weekend, reportedly staying in the largest hotel penthouse suite in America.
On Thursday (Jan. 26), Page Six reported Drake took up residence in the five-star Mark Hotel while stopping in The Big Apple to perform two intimate sets at the famed Apollo Theater over the weekend. And not just any room. Drizzy is said to have coughed up $75,000 a night for the hotel's massive top-floor suite.
According to The Mark Hotel's listing for the suite it has, "more than 10,000 square feet including 2,500 square feet of rooftop terrace overlooking Central Park, the Metropolitan Museum of Art and beyond."
The suite was designed by famous French interior designer Jacques Grange and "includes 5 bedrooms, 4 fireplaces, 6 bathrooms, 2 powder rooms, and 2 wet bars. The Living Room (which can be transformed into a full-sized Grand Ballroom) boasts 26-foot ceilings, a fireplace and adjacent wet bar."
Following his first sold-out show, Drake rented out the Upper East Side, N.Y. members club Casa Cruz for a private afterparty, according to Page Six. Following the second show, he hosted a group dinner at Cucina Alba in Chelsea, N.Y.
Drake's highly anticipated Apollo shows took place on Jan. 21 and Jan. 22, and featured guest appearances from 21 Savage, Lil Uzi Vert, Dipset and others. One mishap occurred when a fan fell from an upper deck and landed on the crowd below.
Check Out Video of The Mark Hotel Penthouse Suite Drake Stayed at Below
See 10 Rappers' Purchases That Broke the Bank