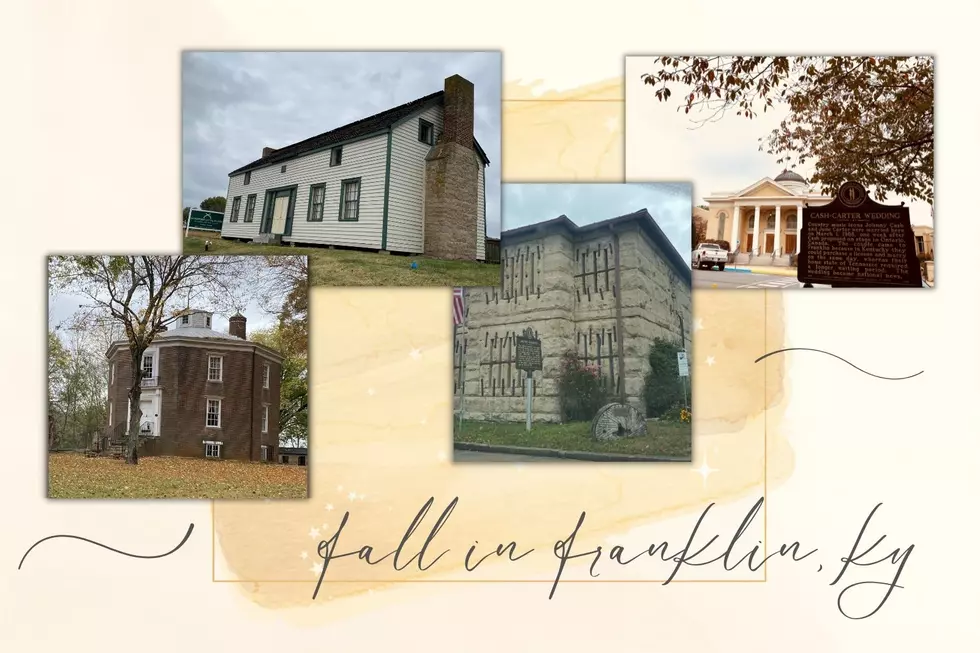 Historic Franklin, Kentucky, Makes a Charming Fall Day Trip Destination
LAUREN DEARMOND , CANVA
Franklin Kentucky is located 25 minutes south of Bowling Green off of Interstate 65 but it's also connected by rural roadways such as 31-W/Nashville Road. No matter what route you take though, just get there. This little farming community holds more than what meets the eye. Franklin is steeped in history and with its many shops, restaurants, and a locally-owned coffee shop positioned around its courthouse square, there is no shortage of opportunities for adventure. I've put together a list of must-do stops while you are there.
Octagon Hall Museum
If you are driving down to Franklin, from Bowling Green on 31-W/Nashville Road, you will come across a pre-civil war era octagon home shrouded in tree cover right off the main thoroughfare. Construction began on this octagon home in 1847 by Andrew Jackson Caldwell and was completed in 1859 before the start of the Civil War. Every brick that was laid for this house was constructed on the property.
Mid-way through construction in 1851, Caldwell's daughter, Mary Elizabeth, was playing in the basement-located kitchen when an ember from the fireplace found the skirts of her dress and took flame. She succumbed to her injuries within the walls of the Hall seven days after the tragic accident and is buried in a family plot on the property.
When southern forts fell to the union army at Fort Henry and Donelson in 1862, troops of Confederate soldiers fled the stronghold posts in Bowling Green, Kentucky after taking on several days' worth of artillery fire, and took refuge at this unique residence en route to Nashville. Octagon Hall was now under confederate occupation. On February 13th, 1862 it is said that around 9,000 confederates were camped out on the Caldwell farm. Following the brief occupation, union troops would harass Andrew Jackson Caldwell as he was a known confederate sympathizer, by sneaking onto the family farm in hopes of catching sight of any hidden rebel soldiers.
To this day the Octagon Hall Foundation is still discovering unmarked graves of what are thought to be soldiers on the grounds. Octagon Hall is one of the most haunted locations in the area and has hosted many television crews over the years to investigate. It is a highly sought-after location for professional and novice paranormal investigators alike. When you enter the hall you will see a wall of signed photos of many familiar TV personalities from shows such as Ghost Adventures, Ghost Hunters, Kindred Spirits, and the Tennessee Wraith Chaser's to name a few.
Tours are conducted daily from Wednesday-Saturday, and you can even book a novice ghost hunt. If you follow Octagon Hall Museum on their social media page, they will post updated hours and all available upcoming novice ghost hunts.
Seven days into the new year in January 1948, a young Air National Guard pilot named Thomas F. Mantell was fatally involved in an air pursuit of a possible UFO. It all started when a report was dispatched to the Godman Airport Base in Fort Knox from the Kentucky Highway Patrol, that an unusual object was aloft in the skies above Madisonville. The lofty object was westbound and around 300 feet in diameter, followed by additional reports from Owensboro and Irvington. At approximately 1:45 in the afternoon, Sargent Quintin Blackwell spotted this potential craft from his watch tower at Fort Knox along with other collogues. Four F-51D Mustangs were already deployed into the airways, including Captain Mantell. The pilots were instructed to approach the craft in question, though one plane turned back due to being low on fuel, and the other two joined Mantell in hot pursuit.
After reaching an altitude of 22,500 feet the last two flanking pilots ended their chase, Mantell continued, however, and reached heights over 25,000 feet. Somewhere past that altitude point, Mantell lost consciousness due to a lack of oxygen. Mantell's craft began to spiral out of control to the grounds below. His plane crashed on farmland just south of Franklin (Mantell's hometown) right around the Kentucky/Tennessee Stateline.
Firemen would go on to retrieve Thomas Mantell's body and they took note of the shredded remnants of his seatbelt and that Mantell's wristwatch had stopped at 3:18 pm. In the meantime, sights of the UFO had been lost and by 3:50 pm was no longer observable to workers at the Godman Airfield.
The Mantell Incident made headlines all over the country and received a significant amount of attention from the press and other news outlets. Over time the event in Franklin become sensationalized, and the legend grew. In the following months, this incident was investigated by the United States Air Force Project Blue Book, which indicated that around the same time the classified Skyhook Balloon would have been in progress, which Mantell would not have been briefed on. This event became one of the earliest reported UFO incidents in the country. Was this object a militarized balloon flight or an alien craft from the far reaches of space? Well, we might never know but the speculation will live on forever. 
Watch more about the Mantell Incident on the Discovery+ documentary, Alien Endgame.
Another historical site in Simpson County is the Sandford-Duncan INN and Dueling Grounds. You can take a tour of this location and learn more about the nearby Linkumpinch dueling grounds. The inn was built in 1819 and sat roadside for weary travelers traversing to and from Kentucky and Tennessee. The dueling ground's were used in the early years of the 19th century and were a means of settling disputes in often-times violent ways. The Linkumpinch dueling grounds were positioned between state lines in such a way that the laws were vague at best and murder could be gotten away with. The inn was often a haven for these wanton gunslingers in the days and hours leading up to the duel.
To tour the inn make plans to visit Friday through Monday, from May 1st through October 31st during the hours 10 am to 4 pm, and Sundays from 1 pm to 4 pm. Admission is $7 for adults and $3 for children 12 and under.
And while no one is fighting to the death on the state line these days, there is a much different way to enjoy the dueling grounds. Visit the first stop Northbound on the Kentucky Bourbon Trail Craft Tour. Located at 208 Harding Road in Franklin, The distillery is easily accessible from both interstate exits off I-65. Enjoy cocktail hours, whiskey pours, the gift shop, tours of the distillery, and spirit tastings. There is even a tasting location at the Sandford Duncan Inn. The pizza kitchen is open Friday and Saturday from 11 am to 6 pm and on Sundays from 3 pm to 7 pm.
Another great way to enjoy local history is by visiting the Simpson County Historical Society and History Center. There you will be welcomed by friendly and welcoming community members who are more than happy to help you explore the area.
The historical society is also home to a museum and the Old Simpson County Jail that was used during the days of the Civil War and tours are also available. They are located just off the courthouse square at 207 College St. a hop and a skip away from the church where Johnny Cash married June Carter Cash in 1968.
See Inside the Ark Encounter in Kentucky
If you've ever heard the story about Noah's Ark or read the book of Genesis, you probably wondered how Noah could fit all of the animals on the ark? Or, better yet, how did he feed and care for all of them?
The massive seven-story timber ark replica is full of amazing exhibits aimed at not only wowing its visitors but also serving as an educational experience that may answer questions surrounding the story of Noah's ark and the Flood. Visitors may even leave feeling inspired or thinking differently about this well-known Biblical account.
You can purchase tickets in advance for the Ark Encounter and the Creation Museum on their
website
. For the remainder of 2022, kids that are 10 and under recieve free admission. Also, be sure to check out their
hours
. If you plan to visit during evening hours, you will catch the ark completely lit up in rainbow LED lights.
See Inside the Kentucky Horse Park in Lexington, KY
This summer, we visited the Kentucky Horse Park in Lexington, KY, and we had an absolute blast. The world's only "Equine Theme Park" you can enjoy a horse-drawn trolley ride, meet world-champion horses, see horses "dance," and learn about all the ways horses have enriched the human experience throughout time. Here's a sneak peek in the park. Visit
kyhorsepark.com
for more info!