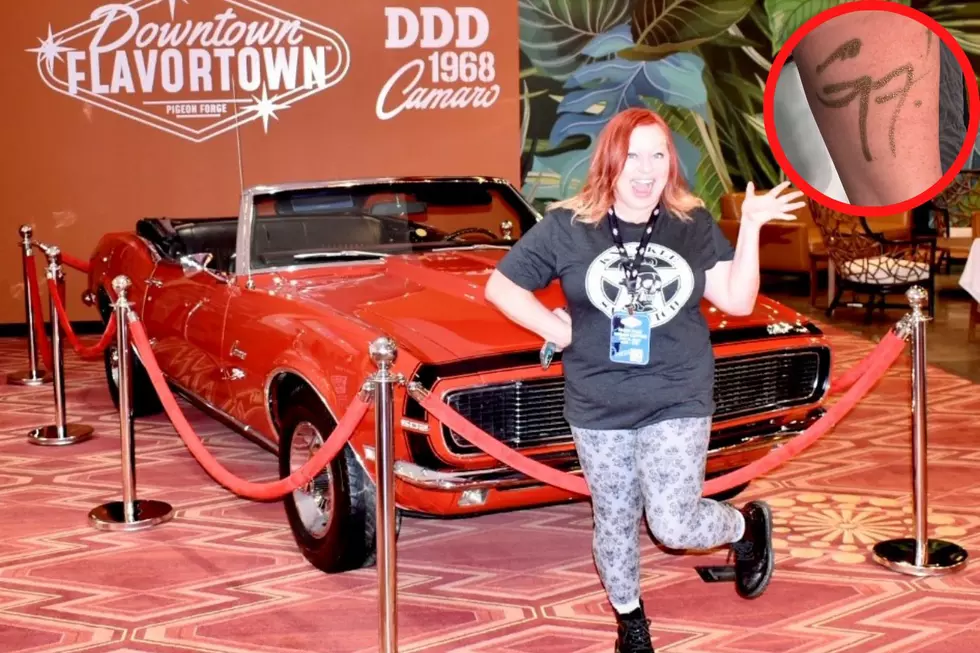 Here's Why I Decided to Have a Celebrity Autograph Permanently Tattooed on My Body
TM
If I had a dollar for every time someone asks me why I'm so obsessed with Guy Fieri, I could probably start my own Chicken Guy! restaurant. To the average Food Network viewer, Guy is just that over the top chef that wears flame shirts and has spikey blonde hair. But trust me, there is a whole lot more than 'Eats' the eye, when it comes to Guy.
It Began with a Pretzel
Guy Fieri has been in the food industry his entire life. Starting with a pretzel cart when he was in middle school, dropping out of high school to study culinary in France, and then owning his own restaurant empire, Guy has made a live of doing what he loves.
Next Food Network Star
Guy won the television competition Next Food Network Star in 2006. My husband and I were hooked from the beginning. His personality is so upbeat and infectious. In addition to being a New York Times bestselling-author, Emmy Award-winning television host and executive producer, Guy owns over 60 restaurants. All of that is awesome, but his compassion, caring, and philanthropy is what really sets Guy apart in the world of celebrities.
Giving Back
Guy Fieri has been giving back to charity organizations from the very beginning. He fed the California firefighters, First Responders and victims of the 2017 wildfires, alongside the Salvation Army. Anywhere there had been a need to help out first responders and police officers, Guy has gone out of his way to help.
Guy's sister passed away from cancer, so Make - a - Wish is very close to his heart. He actually invites a Make - a - Wish family to each of his tv show tapings. Not to be outdone...Guy also has his own charity. It began with Cooking with Kids which has helped over 20,000 kids learn their way around the kitchen since 2010.
Restaurant Relief
Guy managed to make his Food Network shows successful throughout the pandemic, with some outside of the grocery delivery box ideas. Guy Fieri also led the charge to help keep restaurants in business with the Restaurant Relief Fund, and to remind fellow restaurant owners that they were not alone.
Bucket List - CHECK
When I heard about Downtown Flavortown opening in Pigeon Forge, I simply hoped that if we went there someday, I might meet The Mayor of Flavortown by chance. Now, June 13, 2022, will forever be one of the best days of my life. Not only did I have the opportunity to meet Guy and his sons, I interviewed him, and proved my super-fan power was knowing his birthday.
Guy Keeps His Promise For That Selfie
But a Tattoo, Really?
Until a couple of weeks ago the only tattoo that I could commit to was my wedding ring. As I stuck out my arm for Guy Fieri to sign, I told him that I would probably get it tattooed. Now, for the rest of my life I will be educating people on how to properly pronounce his last name - Say it with me - FEE-EDDY.
Nightingale's Tattoo Studio
Hear Guy's Heartfelt Thank You at His Hollywood Walk of Fame Ceremony (25:00) Mark
Hunt & Ryde Winery
Santo
Flavortown Merch
Triple D Spots
Feast Your Eyes: 20 Tri-State Restaurants Diners Drive-Ins and Dives Should Feature
My pallet is very 'Kid menu' friendly, but I'll sit and watch Triple D all day. Now, not only has the show never been anywhere really close to us, it's been at least 9 years since Guy has filmed in Indiana. That in itself should be a crime. So, let's spread the word, and get these local eateries some
national attention
.
Guy Fieri's Downtown Flavortown Pigeon Forge, Tennessee Ribbon Cutting
Downtown Flavortown
is a family entertainment center that includes a restaurant showcasing Guy Fieri's famous culinary combinations; a 14-lane Duck Pin bowling alley; over 10,000 square feet of state-of-the-art arcade games; and a full-service tiki bar.