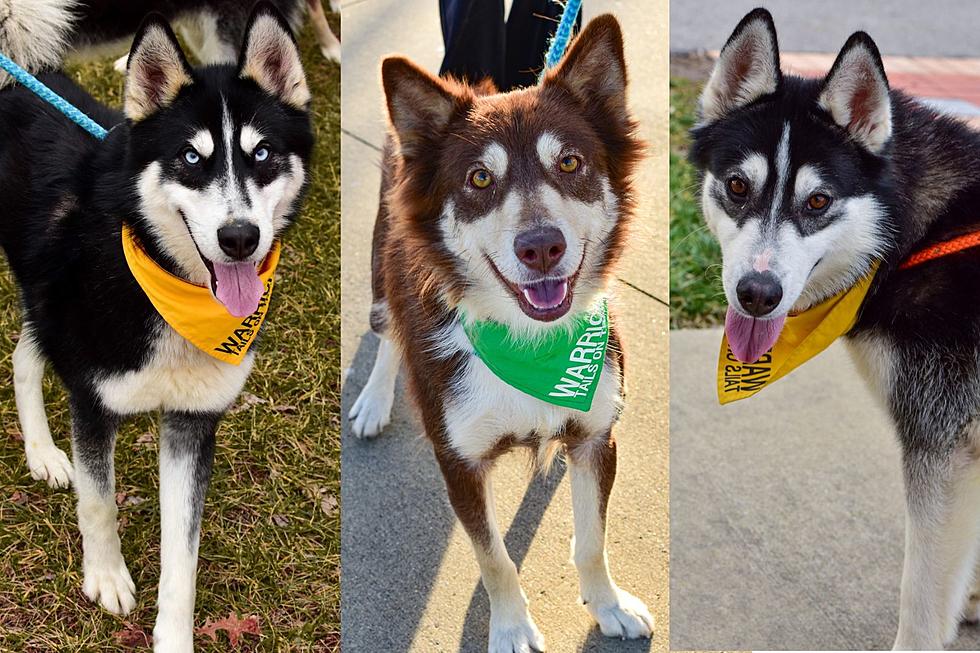 Goofy Husky Pack in Newburgh Looking for New Families and New Adventures
WHS
I've owned two huskies in my life. Both of them loved a good adventure - with or without me. One of the huskies I rescued literally off the Blue Bridge in Owensboro. He was just standing on the Indiana side. I pulled into the parking lot at the bottom of the bridge and opened my car door. He jumped right in and was disgusting. I took him home and looked everywhere for his owner. On that side of the bridge, there are no houses or businesses for MILES but sometimes we would find my last husky 10 miles away from home when she'd decide to go for a run. After about a month of searching, we decided to rehome him. We lived in town and he needed a home that better suited his needs. He found a WONDERFUL family and people who are perfect for him.
Huskies were bred to run. Because they are goofy, fun-loving beautiful dogs, they are also a popular breed. But most people don't understand the needs of the breed. One walk a day is no substitute for hundred-mile sprints across Alaska. They are also notorious escape artists. In the month that we had the husky, he dug up our entire yard. These attributes that just come naturally to them also make them prone to be surrendered to shelters.
But huskies are also loyal, loving, and so much fun. It just really takes the right people with the right environment to be successful with this breed.
Warrick Humane Society in Newburgh currently has three huskies that are up for adoption.
Meet Bobby, Lupa, and Maximiliian
From WHS: Where are all our husky lovers?!

Since January 17th, Bobby, Lupa, and their son, Maximilian, have been providing us with all the love and songs. Bobby is a 2.5 year old husky mix who is VERY smart, curious, energetic, loves snuggles, and also likes kiddos. He LOVES peanut butter. His downside is that he is definitely an escape artist who can both climb and dig his way out of things. Lupa is a 3 year old husky/aussie mix who ADORES kids and will take all the cuddles she can get. She is super, super sweet to anyone she meets. Maximilian is a 1 year old husky/aussie mix who can be a little shy at first, but once out of his shell, shows his sweet personality. Like his daddy, he is very goofy, spunky, loves attention, but he can dig out of kennels. This goofy husky pack would love to each find their own furever families.
How to Adopt These Pets
If you are interested in adopting, fill out an adoption application or stop in and visit the pet of your choice.
GET DIRECTIONS
Phone: (812) 858-1132
HOURS
Mon: Closed to the public
Tue: Closed to the public
Wed: 12:00PM - 4:00PM
Thu: 12:00PM - 7:00PM
Fri: 12:00PM - 4:00PM
Sat: 12:00PM - 4:00PM
Sun: 12:00PM - 4:00PM
More Adoptable Pets from WHS
More Happening at WHS
Jr Volunteer Program
Interested in our Junior Volunteer Program? We are taking registrations for our next session now!
WHO: Kids ages 13-15 who are passionate about animals
WHAT: Kids learn all aspects of volunteering at WHS
WHEN: Sundays April 16th-June 4th (12PM-2PM)
HOW: Email volunteerwarrick@gmail.com for registration
The program is limited to the first 8 paid registrants
Shirt Fundraiser