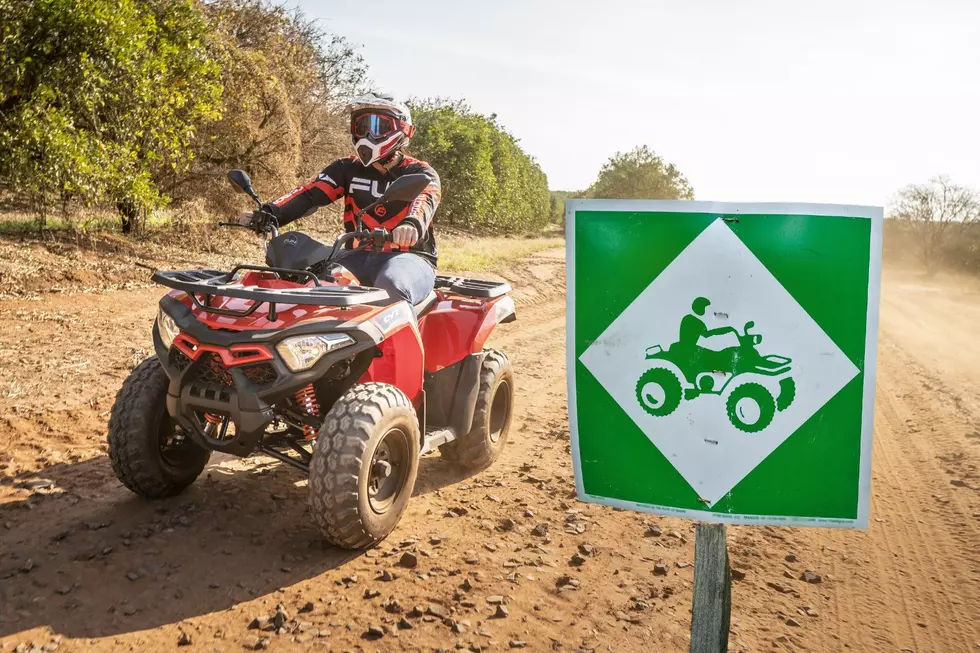 Get Muddy at These ATV Trails Around the Southern Indiana Area
Canva
As the saying goes, "Life begins at the end of your comfort zone."
Riding an ATV was DEFINITELY outside my comfort zone until I learned last year. I grew up in St. Louis, a city girl through and through. We didn't own ATVs, let alone know how to drive them.
Enter Chance, my boyfriend of 5 years, who has been riding four-wheelers since he was a kid. After asking me to let him teach me countless times (and ignoring my fear-driven refusals), I finally relented and he taught me how to handle an old 1993 Polaris right in our backyard.
After mastering going up and down the hill and around the tree in our backyard, we moved on to exploring the woods that are a part of his mom's property in Philpot, Kentucky. After an afternoon of navigating steep hills, cascading into mud holes, and getting myself stuck (and unstuck) for the first time, I was hooked.
Although I am no ATV master by any means, it has definitely become a favorite hobby for my guy and me. We try to go riding whenever we can make the time. Luckily, the tristate area has a lot of trails to choose from.
Whether you are looking for some easy cruising and simple adventuring or you're a four-wheeling pro ready for more of a challenge, the tristate area has a variety of  ATV parks to try out. Winter, Spring, Summer, or Fall, there's never a bad time to get out there and get muddy!
***Remember to follow state laws and safety regulations for operating an ORV. Drive responsibly.***
Interlake State Recreation Area
Located in Lynnville, Indiana, this former coal mine land has nearly 100 miles of trails for ATV enthusiasts to explore 7 days a week.  The park has trails of varying expert levels as well as scenic lake views to enjoy. For fees, maps, and hours, check out their website. You can also call (812) 922-0002.
Little Egypt Off-Road Motorcycle Club 
Don't let the term "motorcycle club" fool you.  After recreational trail riding became outlawed in Shawnee Forest, a motorcycle club committed to the hard work of raising money to purchase land for off-road vehicles. This family-friendly ATV park is located east of Marion, Illinois. With 50 miles of trails, including one just for kids, Little Egypt welcomes ATVs, dirt bikes, and side by sides. The park also holds some special events like the Winter Off-Road Nationals coming up on November 20th. More information can be found on their website or by calling (618) 982-2992.
Blue Holler Offroad Park
With spectacular views of Mammoth Caves, this park offers some of the coolest riding experiences in the tri-state area. Climb steep hills and explore inside the caves. There is even a waterfall trail. Although the park is full of stunning views of the caves, it is also more challenging than other parks and is definitely not recommended for beginners. Check out their Facebook page or call for more information at (270) 286-6295.
Redbird State Recreation Area
According to their website, this park is rich with an interesting history. With 1,400 acres of what used to be called the Redbird Coal Mine, the park has trails that will thrill riders of all skill levels. With more reclamation projects in progress, the area is consistently growing and changing. Visitors can also fish, hike, and hunt for mushrooms. Phone number: 812-847-0146
Gregory Lake RV Park
In addition to campgrounds, this park has miles of wooded trails that are tons of fun to explore. As my first riding experience in an ATV park, I was amazed by how this place seemed to go on and on forever. Even as a beginner, I was able to navigate the trails in a way that challenged me but didn't overwhelm me. Home of Mudfest, the park is also known for having rockin' concerts that riders can enjoy after a long day of hitting the trails. Located in Drakesboro, Kentucky, Gregory Lake should definitely be on your list of parks to explore. Check out their Facebook page to keep up on events or call (270) 476-9223.

Turkey Bay Off-Highway Vehicle Area
Who wouldn't want to ride in Land Between the Lakes? With 100 miles of trails of varying experiences and beautiful lake views, Turkey Bay is definitely high on my ATV park bucket list. Visitors can call 270-924-2233 or check out the website for information regarding fees and waivers.
Thorne's Recreational Property
Located in Bedford, Indiana just a couple of hours north of Evansville, are the beautiful 130 acres of land owned by the Thorne Family. The property not only offers wooded trails with rocky obstacles and hills, but it also has a cabin rental, camping, and other outdoor activities making it a perfect spot for a little weekend getaway. Check out their website or call 812-583-3916 for questions and pricing.
Haspin Acres
Nestled in Laurel, Indiana right before Cincinnati, Haspin Acres offers riders over a hundred miles of trails through woods, streams, and rocky crags. If you're a rider that is looking for a challenge, you must try their most popular trail, named "Devil's Backbone." Check out their website or call 765.698.2420 for pricing and rules.
25 Most Common Last Names in Indiana
Do you share the same last name as thousands of your fellow Hoosiers?
Forebears
looked at hundreds of names across the state and ranked them based on the number of people who have them. Take a look at the list below to see where (or if) your last name is on the list.