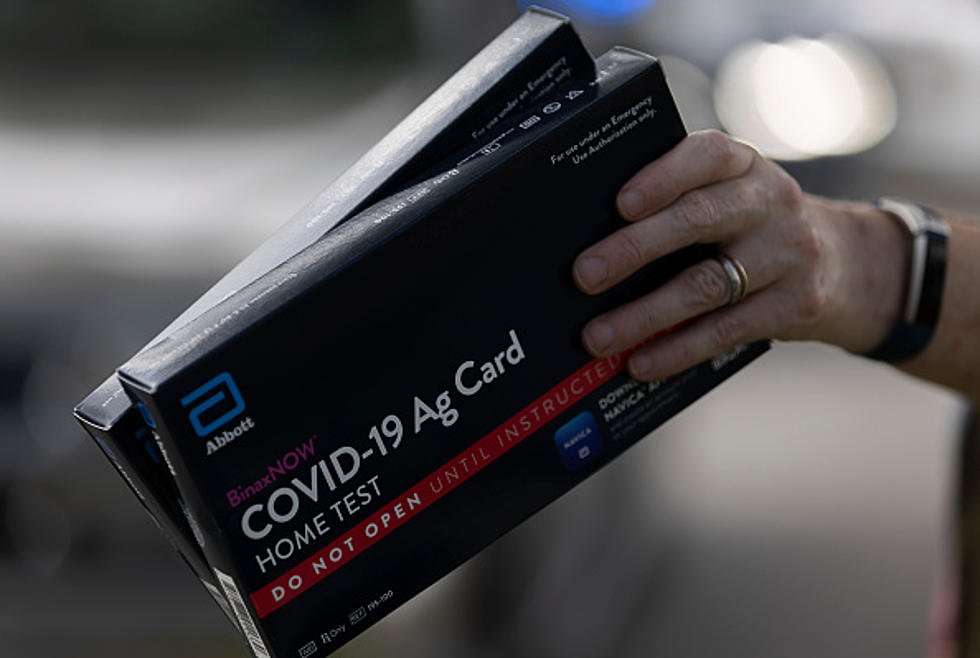 Effective Immediately, Kentuckians Can Order Free At-Home COVID-19 Tests
Joe Raedle/Getty Images
I am very excited about this.  I say this as someone who, over the last two pandemic years, has done some extensive traveling despite the surge of COVID-19 around the world. If you've traveled internationally, you too are aware that it's gotten a little more complicated to do so.  Depending on where you go, there are vaccination and testing requirements.
Here's a prime example.  In March of 2021, Kevin and I traveled to Rio de Janeiro and, at the time, much of Brazil was on a strict lock down. In fact, most Brazilians weren't even allowed to travel state to state in the country because the Brazilian variant of the virus was paralyzing a good chunk of the country.  Rio de Janeiro, however, wasn't closed to international visitors, though very few were flying in.  But we chose to go anyway and flew into the country knowing that Rio was under a government-imposed curfew.  We knew we had to be extra-careful and smart and we knew that we'd have to do our due diligence back home getting our travel documents ready for the trip.
Upon departure from the United States and before entry into Brazil, we had to provide proof of a negative COVID-19 test that was taken within 72 hours of arrival of the country.  Well, try to time that out perfectly.  It was nearly impossible. Because of the unpredictability of the delivery of test results, we had to basically play a guessing game in deciding where to go to get our test and how quickly we'd get our tests back.  To make a long (and nerve-racking) story short, we were almost denied boarding access to our plane from Miami to Rio.
Coming home, we nearly ran into the same issue.  We actually had to find a lab to get Kevin tested before we came home.
Because I was within 90 days of COVID-19 infection, which was horrendous, by the way, I was able to fly back into the U.S. with a note from my physician stating that I had been infected with COVID-19 within the last three months.  I had that documentation.  The only issue was the airline nearly didn't allow me to use it and was within seconds of ordering me to stay in Brazil until I tested negative.  Luckily, thanks to exceptionally quick thinking and up-to-date and accessible U.S. State Department requirements, I made it home, on time, as planned.
We ran into similar issues with required testing this past summer when we visited Kenya.  Getting tested before the trip wasn't a problem, thanks to a friend who works in healthcare.  But we had to arrange for COVID tests while we were at a base camp in Masai Mara.  Now, if you're not familiar with the southern savannah of Kenya, there's just not a lot of development there.  So, we had to pay for a physician to come to our tent camp and swab us.  We got our lab results back just hours before we were set to fly home.  They assured us we would, but waiting for the results was rather daunting.  We were fully prepared to make last-minute changes to our itinerary if we ended up having to stay longer than expected.
So, I personally am thrilled with the news that the U.S. government has agreed to send out FREE at-home COVID-19 tests.  That initiative officially begins today (though the site actually went live Tuesday) and each household can order up to four free tests.  Trust me, I have already placed my order and have no doubts that we'll be putting those tests to good use very soon.
If you'd like to order yours, simply visit COVIDTests.gov.  It takes less than a minute.  All you have to do is provide your name, email (if you'd like to receive shipping notifications) and your shipping address.  No credit card information is required.  The product and the shipping costs are absolutely FREE.  According to the White House, your tests should ship within 7-12 days of placing your order.
If you have questions about at-home COVID-19 test results and how (and if) they're acceptable for international travel, CLICK HERE!
25 Stunning Wildlife Photos from Amboseli National Park in Kenya
For our summer vacation, Kevin and I traveled to Africa for a safari in Kenya. Our first stop was Amboseli National Park, which is world renowned for its impressive population of elephants. And the park delivered. Not only did we see an incredible amount of elephant families, we saw giraffes, zebras, wildebeests, monkeys and, yes, a lion! Here are some of our favorite photos from our visit.
21 Heart-Stopping Photos of Beautiful Lions in Masai Mara Reserve in Kenya
I just returned from Kenya, which is home to the Masai Mara. The reserve has the densest population of lions in the world. Not only did I see a lot of lions, I saw them up close and personal in hair-raising proximity. They were majestic and amazing.