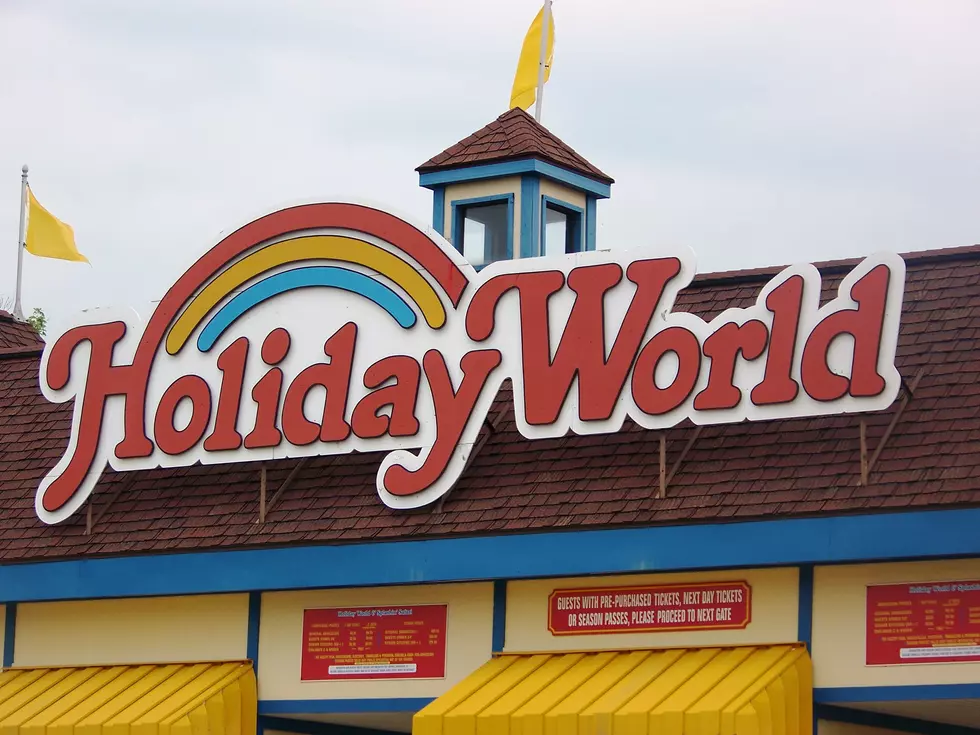 Five Really Cool Ways to Enjoy Holiday World at Home [Video]
Alex Pierce/WBKR
Ya'll know that I am a huge fan of amusement parks.  A couple of weeks ago, I was checking the Facebook page on one of my favorites- Kings Island in Mason, Ohio.  The park published a story called 5 Ways to Have Some Kings Island Fun at Home.  By the way, if you haven't checked out videos of their test rides on the giga coaster Orion, you have to do it.  That think looks awesome!
Well, their story inspired me to write something similar about another one of my favorite amusement parks- Holiday World and Splashin' Safari!  So, here goes.  My take on this idea.  Here are Five Really Cool Ways to Enjoy Holiday World at Home!
Okay, so I already mentioned that Kings Island has been conducting and filming test runs for its new giga coaster Orion.  But Holiday World and Splashin' Safari are getting ready to unveil their brand new water coaster, Cheetah Chase.  If you haven't see it, get the kids and have them gather around.
#1- Watch the Cheetah Chase POV Video
Speaking of POV videos . . .
#2- Watch Videos of Holiday World's World Class Roller Coasters
You have to check out Holiday World's video from on board Voyage, which, I must confess, is one of my favorite roller coasters I have ever ridden.
And, of course, we can't forget the fact that Holiday World is home the world's first launched winged coaster, Thunderbird.  If you want to have some fun at home, at my expense, watch this video!  My friend Melissa, from WGBF in Evansville. rode side-by-side on Media Day!
#3- Listen to Holiday World Podcasts #HoWoPo
You may not know this, but Holiday World is home to its very own podcasts.  Now, true roller coaster enthusiasts around the world are well aware of this podcast and they tune in like crazy.  If you haven't had the chance to tune in, you should.  You'll hear from members of the team and various special guests and it's a great way to learn things about the park you may not know.  And another really cool thing about the podcasts, they're named like old episodes of the TV show Friends.  The name of each episode of that classic sitcom started with "The One with . . .". That's exactly how #HoWoPo podcasts are named too.  For instance, a recent installment was named "The One with All the Food."  Another recent show was called "The One with the Merch and the Perks."  Trust me on this.  Tune in!
#4- Comb Your Photo Albums for Vintage Santa Claus Land Pics
Yes, that stud in the green t-shirt and the tube socks is ME!!  LOL!  That's me and my sisters at Santa Claus Land during the summer of 1981!  If you think you have photos of you and your family at the park, try to dig them up.  Seriously!  Memories of Santa Claus Land are everything.
While you're digging out your own memories of Santa Claus Land, this commercial from the 1970s may trigger some!
Everyone has favorite memories of Santa Claus Land or Holiday World & Splashin' Safari.  I mean, who remembers the Banshee???  You can read a full history of the park, relive some of the classic rides that used to be at the park and take a look at all of the awards Holiday World has won over the years!
I want to also mention that, last week, Holiday World announced the launch of Holidog's Digital FunTown which is loaded up with tons of fun stuff for the kids to do at home: online coloring sheets, puzzles, magic shows to watch at home, and more!
Holiday World is set to open for the season on Saturday, May 2nd.  However, the park has announced it is monitoring the ongoing COVID-19 crisis closely and will adjust that date if necessary.  As of now, we know the park will not open for the season at least until June.  We'll keep you posted and will share the opening date for the 2020 season as soon as it's set.
Enter your number to get our free mobile app
See the Must-Drive Roads in Every State