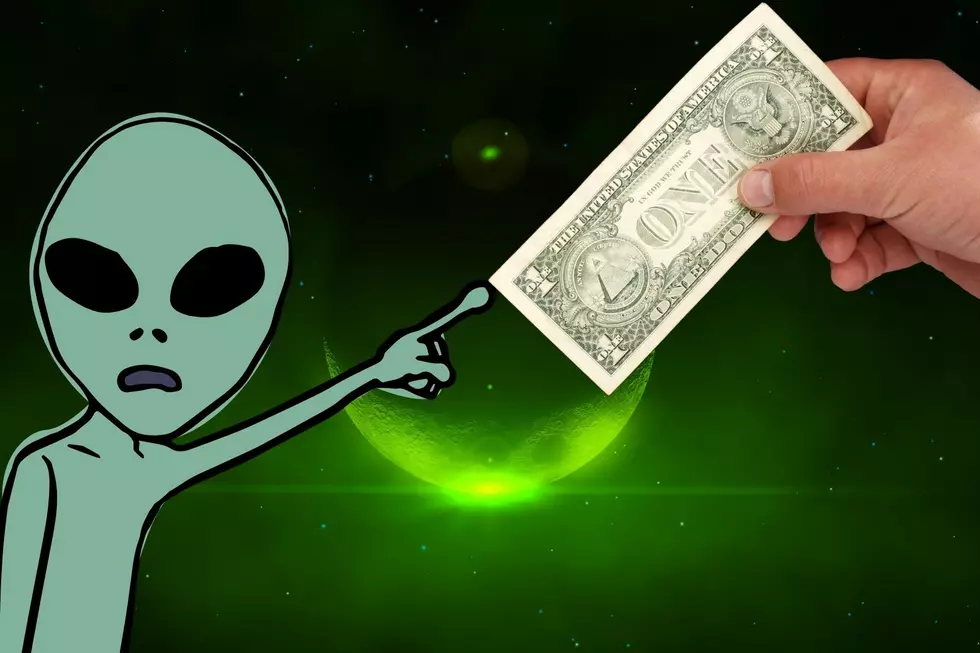 Does Adjusting the Contrast on Dollar Bill Photo Make an Alien Appear?
Canva
Is Everything You See on Social Media Real?
A photo circulating around Facebook claims that if you take a photo of the eagle on the back of a one-dollar bill and adjust the contrast, an alien figure will appear. Thanks to my access to Photoshop here at the station, I was able to test that theory for myself.
If there's one thing Facebook is really good at, it's providing me a nearly continuous flow of misinformation that I can debunk with a few minutes worth of research. Earlier this week, I dispelled the myth that simply copying and posting a certain status update will prevent Facebook from making all your posts public, and now I'm putting a viral photo to the test.
The Post in Question
The following photo has been shared nearly 2,400 times after the English-based techno duo, Eat Static, shared it on their Facebook page on October 14th:

Several people reacted to the photo with comments or the "wow/shocked" expression Facebook now has an option, and one person reacted with the "angry" expression. I'll assume they are a conspiracy theorist who believes the Illuminati are secretly running the world, and are angry about everything.
I felt pretty strongly that this claim wasn't true, but in the interest of fairness, I decided to find out myself by snapping a photo of a dollar bill and adjusting the contrast using Photoshop.
Let's Get Started on this Alien in the Dollar Bill Experiment
One of the comments on the Facebook photo above noted that it couldn't be real because when you adjust the contrast on a photo, it applies to the entire photo, and that didn't appear to be the case, the contrast adjustment seemed to only affect the center of the picture. However, with Photoshop you can isolate any adjustments to one specific location of the photo using the Selection Tool, which is how I conducted my "experiment."
As you'll see, my results didn't quite turn out the same way.
Unless I did something wrong, you can't even see a hint of an alien figure in even the most contrasted photo on the far right.
What is The Eat Static Facebook Page All About?
It should be noted, that Eat Static seems to have an obsession with the idea of the existence of extraterrestrial life, based on the fact that nearly every album they've released has either a UFO or some other extraterrestrial reference on it. Couple that with the fact both their Facebook profile and cover photos feature the typical depiction of what people think of when they think of "alien life form," I'm going to chalk this up as a doctored photo used to market themselves and attempt to draw in new fans.
Must See: Astrophotography Taken Over Southern Illinois Zinnia Field
See beautiful images of the night sky over a zinnia field located in Redelman Orchards located in Southern Illinois. The spectacular photos were captured by Illinois photographers
Grant Twiss
and
John O'Connell
.
15 Struggles From 'Back In My Day' That Today's Young People Will Never Understand
We are using the word "struggle" very loosely here, in fact, a lot of folks might consider some of these things a positive, not a struggle. What do you think?