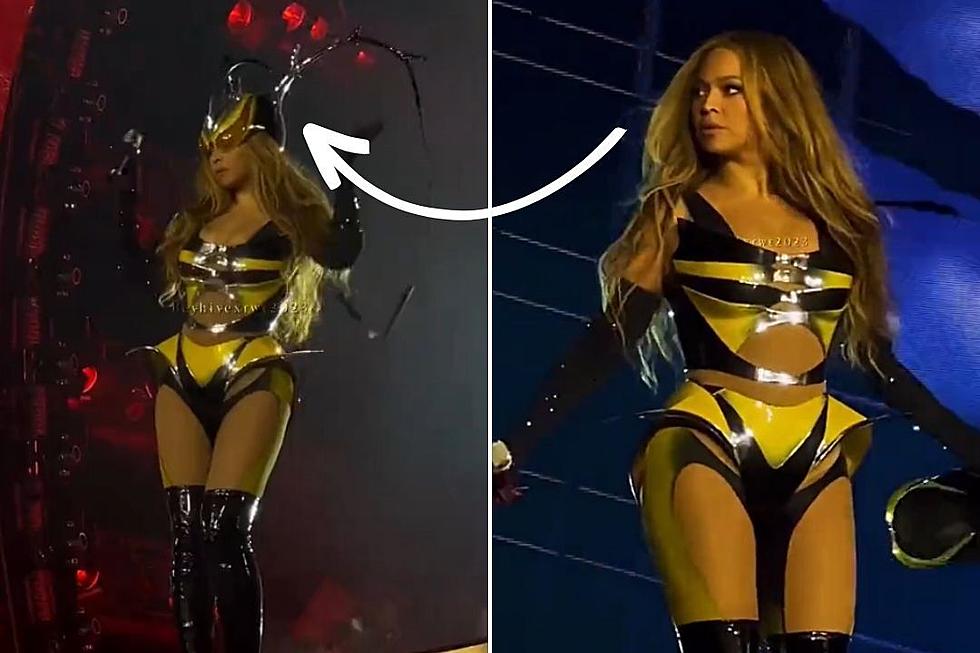 Beyonce Accidentally Breaks Her Iconic Renaissance Tour Bee Helmet: WATCH
@beyhivexrwt2023 via TikTok
Beyonce accidentally broke her iconic Mugler bee helmet during a recent Renaissance Tour concert, and the moment created quite the viral buzz on TikTok.
In footage shared on TikTok from Bey's May 30 concert in London, a fan captured the exact moment the performer's campy bee helmet broke, as well as the singer's look of shock.
In one viral clip, Beyonce appears to have a difficult time pulling the helmet off her head as it catches on her lashes.
More trouble ensues when Bey drops the helmet on the stage. She appears to mouth "Oh, s--t," as she does a double take to see if the accessory is OK and notices one of the helmet's antennas has broken off.
In a video that shows another angle of the moment, Honey Balenciaga, one of Bey's backup dancers, can be seen grabbing the helmet off the ground as well as the broken antenna piece.
Beyonce's bee costume usually makes an appearance when the singer performs her songs "America Has a Problem" and "Pure/Honey." Both tracks appear on her critically-acclaimed 2022 album, Renaissance.
In May, Bey's bee costume became a meme when she shuffled stiffly in the outfit on stage while performing "America Has a Problem."
Many at the time speculated that the costume may have been too tight, but it became a fan-favorite look nonetheless, sparking its own TikTok trend and even a filter.
READ MORE: Beyonce Gives Bombastic Side Eye to Loud Fan Singing During Concert
The custom costume was designed by Mugler, the fashion house known for their work with Lady Gaga, Cardi B and Blackpink, among many others.
In 2022, Gaga wore a similar, Mugler-inspired insect costume at her own Chromatica Ball tour.
The two high-fashion, antenna-focused tour costumes have drawn comparisons to each other, with many fans arguing Gaga and Bey should wear the outfits while performing their 2009 collaboration, "Telephone."
Celebrities' Worst Onstage Meltdowns