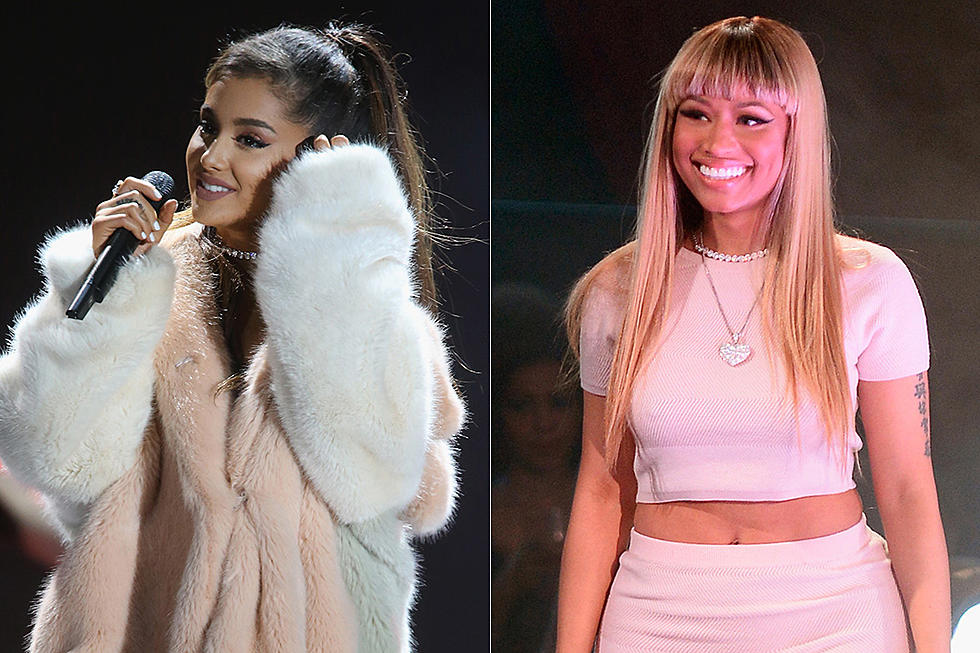 Ariana Grande Unveils 'Side to Side' Collaboration With Nicki Minaj
Frederick M. Brown / Bryan Steffy, Getty Images
In preparation for her Dangerous Woman album release on May 20, Ariana Grande has been previewing tracks, one by one, for her fans online.  On Saturday May 14, during a Beats 1 interview on Apple Music, Grande premiered the track "Side to Side" which features a collaboration with Nicki Minaj.
The track premiere came after Grande had already dropped the tracks "Greedy" and "Everyday" featuring Future in the days before.
In "Side to Side," the upbeat banger has Grande singing, "I've been here all night / I've been here all day / And boy, got me walkin' side to side," while Nicki later comes in slaying with her rhymes, such as, "This the new style with the fresh type of flow / Wrist icicle, ride d--- bicycle / Come true yo, get you this type of blow / If you wanna menage I got a tricycle."
"Side to Side" is the second collaboration between Nicki and Ariana, and the first since they teamed up with Jessie J for the song "Bang Bang."
Apple Music subscribers can click on the playlist below to listen to the superstar collaboration.
A History of Eye-Raising Celebrity Disses