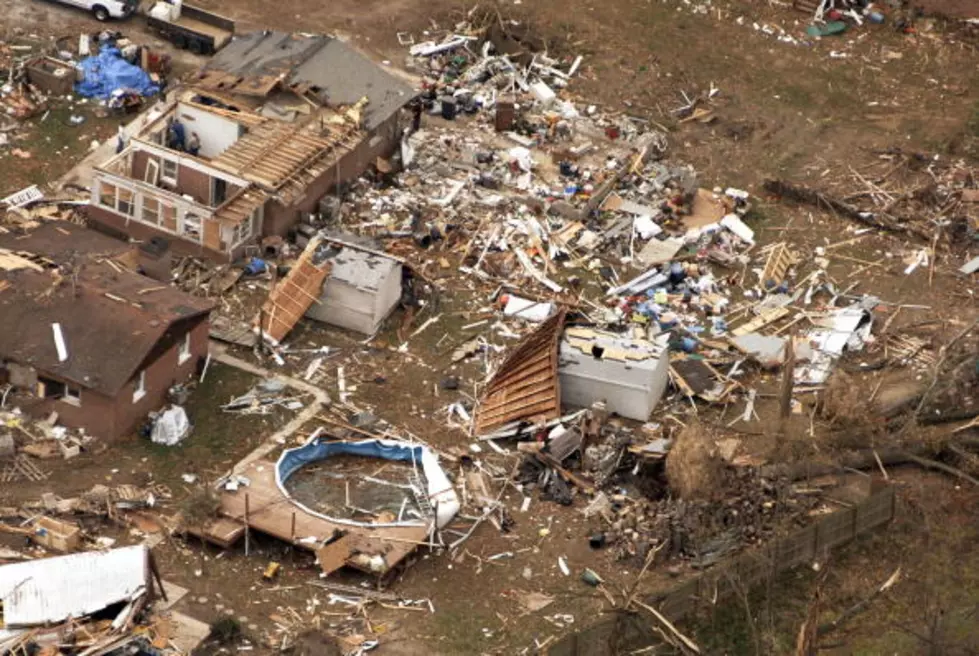 Anniversary of November 6th Tornado an Annual Reminder to Always Be Prepared
EVANSVILLE, IN - NOVEMBER 7: Rubble and debris from homes caught in the path of the tornado lie on the ground November 7, 2005 in Evansville, Indiana. At least 22 people were killed and more than 200 were injured when a tornado ripped through northern Kentucky and southern Indiana recently. (Photo by Melanie Blanding/Getty Images)
The overnight tornado that tore through Ellis Park, destroyed homes in the Eastbrook Mobile Home Park, and caused thousands of dollars in damage to homes in eastern Vanderburgh County and western Warrick County eight years ago today continues to serve as a stark reminder that we should always be prepared for severe weather no matter what time of day.
Much like another tragic event, I slept right through the storm that produced that tornado. However, in this case, I assume a majority of the Tri-State was right there with me as it did roll through at 2am.
I do remember being awakened briefly by the noise of the storm around that time while I slept inside my home on Evansville's north side and thinking it sounded like it was getting pretty nasty. Although I didn't feel it was nasty enough to warrant turning on the TV. That didn't happen until about six hours later when I pressed the power button on the remote to see coverage of the damage on channel 14. Homes were in ruins, or completely gone. Residents, along with firefighters and police officers were searching the rubble for personal belongings, or even more frightening, loved ones.
When it was over, 25 people lost their lives as a result of that night, including C.J. Martin, the two-year-old boy whose mother, Kathryn Martin, channeled her grief into the C.J.'s Bus project, as well as C.J.'s Law (on the books as Indiana Code 25-23.7-8) which requires those who operate mobile home parks to provide weather radios to their residents.
There are always lessons to be learned from tragedy, and the November 6th tornado was no different. We learned that severe weather can happen at anytime; that tornadoes don't work nine to five, and that we need to be prepared for those times. You'll notice that since that event, our local meteorologists work hard to give us as much early warning as possible if there's even a slight chance that a storm front could become severe. It's the reason they go with wall-to-wall coverage when severe weather enters the area, and continue that coverage until the threat has moved through.
In a somewhat weird way, the November 6th tornado has ultimately made us safer. It's forced us to be prepared for anything. Whether it's by having our weather radio on as we drift off to sleep, or downloading a local news app for our phones and tablets that alert us to the threat as soon as it comes into existence so we can get our families, and ourselves, to safety.