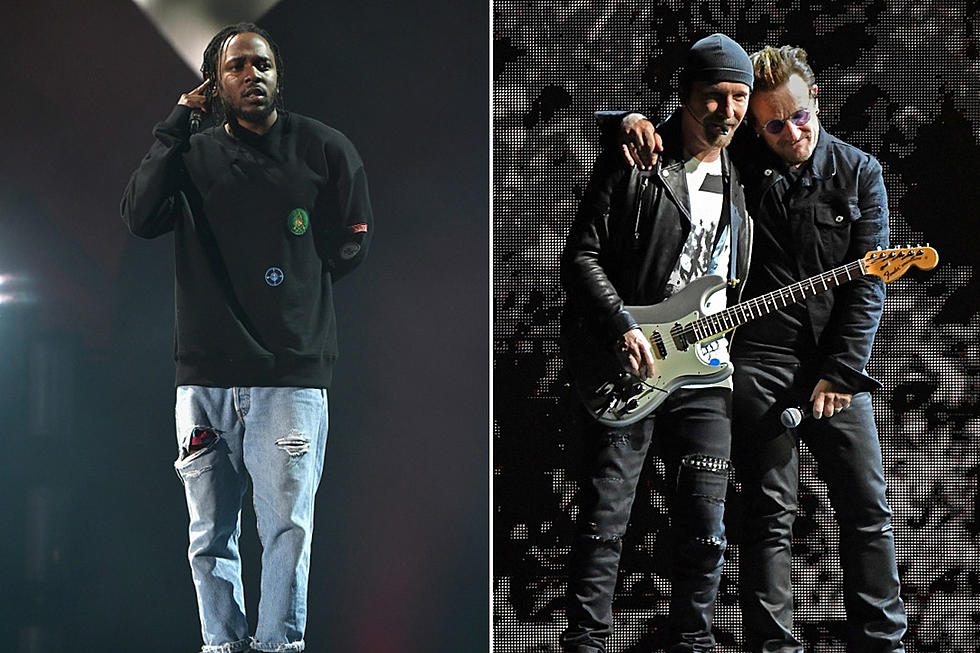 Kendrick Lamar Links Up With U2 on New Song "Get Out of Your Own Way"
Theo Wargo / Mike Coppola, Getty Images (2)
Kendrick Lamar previously got some help from U2 on the song "XXX." from his album DAMN., and now the rapper is paying the rock legends back.
On Wednesday (Nov. 1), the Irish rock band released their new Kendrick-assisted song "Get Out of Your Own Way." While K. Dot doesn't rap on the track, he does deliver a spoken word segment toward the end.
"Blessed are the arrogant/For there is the kingdom of their own company/Blessed are the superstars/For the magnificence in their light/We understand better our own insignificance/Blessed are the filthy rich/For you can only truly own what you give away/Like your pain," the "Loyalty" rapper says on the song.
Kendrick recently discussed his latest album, calling "FEAR." some of the best verses he's ever written. "It's completely honest," he told i-D Magazine. "The first verse is everything that I feared from the time that I was seven years old. The second verse I was 17, in the third it's everything I feared when I was 27. These verses are completely honest."
The rapper also revealed his secret to making better music was keeping people who critique him around. "Everything you write is not dope," he said. "I've been in that studio writing terrible verses, writing terrible hooks, with homeboys and friends and people that you trust telling you, 'That's garbage.' I grew thick skin and got back in there and did it all over again. And then you eventually grow an ability to know when something is too far. I learnt how to challenge myself to take it to the next level."
"Get Out of Your Own Way" will be featured on U2's upcoming fourteenth studio album, Songs of Experience. The project is scheduled to release on Dec. 1.
Listen to the new track below.
See Photos of Kendrick Lamar's Different Looks Over the Years