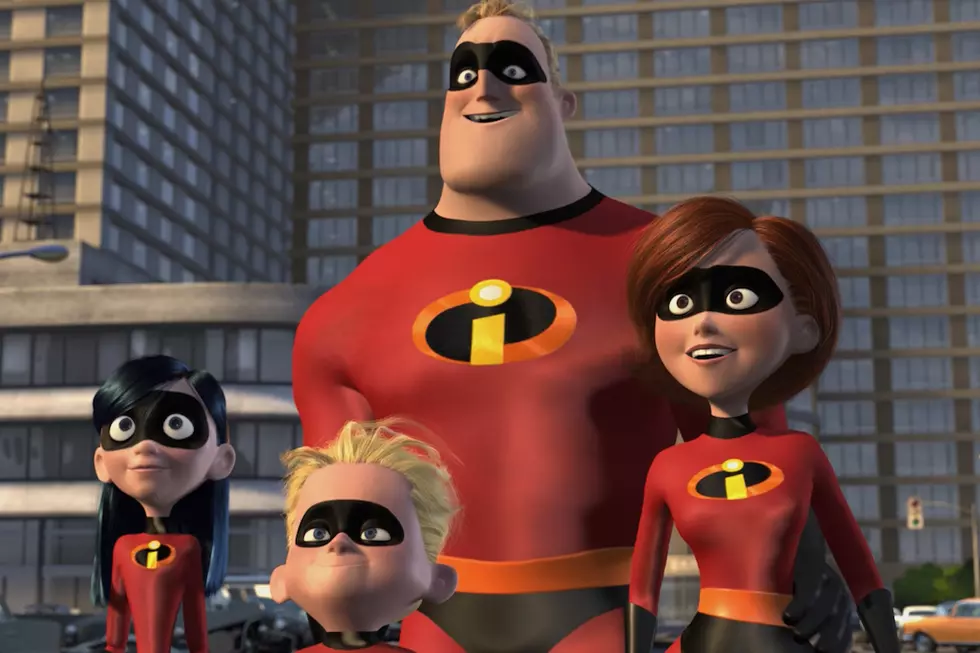 'Incredibles 2' Teaser Reveals Trailer Coming Tomorrow, Plus Bob Odenkirk and Catherine Keener Join Cast
Pixar
A new Pixar film is opening next week, but you can bet Coco will also arrive with some exciting Pixar news. Ahead of the studio's latest animated adventure, Pixar fans are getting one incredible treat. On Saturday – as in tomorrow, as in just a few hours from now! – Disney will drop the very first trailer for The Incredibles 2, and today we got the first teaser.
The studio unveiled the teaser for the superhero family sequel this afternoon on Twitter. It's not much, but it does feature a giggling Jack-Jack and reveals that you better be around tomorrow for something "incredible," most likely the first trailer.
Disney will reveal the trailer on ESPN during College Game Day tomorrow. The pre-show airs from 9am ET until the Week 12 game kicks off at noon, so check back here around then to see the anticipated first look. But that's not all; today also brought news of the newest voice cast for the sequel.
In a bit of delightful casting I am exceptionally thrilled about, Jimmy McGill/Saul Goodman himself, Bob Odenkirk, has joined the voice cast of Incredibles 2 along with Catherine Keener, according to The Tracking Board. No word yet about their characters, but new superheroes are expected to debut in the sequel, so hopefully tomorrow's trailer will give us some clues. The Brad Bird sequel will pick up right where the 2004 movie left off, as John Lasseter revealed over the summer:
It starts right as the first one finishes, so it just carries on. It starts with the Underminer and a big old set piece. You know that at the end of the first movie when he comes up and you see the family dressed as superheroes, well that's where start this movie.
The sequel is expected to focus more so on Elastigirl (with Helen Hunt returning) while Craig T. Nelson's Mr. Incredible will fill the role of stay-at-home-dad to take care of Jack-Jack. Sarah Vowell and Huck Milner will also be back voicing Violet and Dash, respectively, John Ratzenberger will return as the Underminer, Bird is providing the voice of Edna Mode once again, and Samuel L. Jackson is back as Frozone. Stay tuned for the trailer tomorrow.
The Incredibles 2 hits theaters June 15, 2018.
Gallery – Movie Reboots That Are Also Sequels: