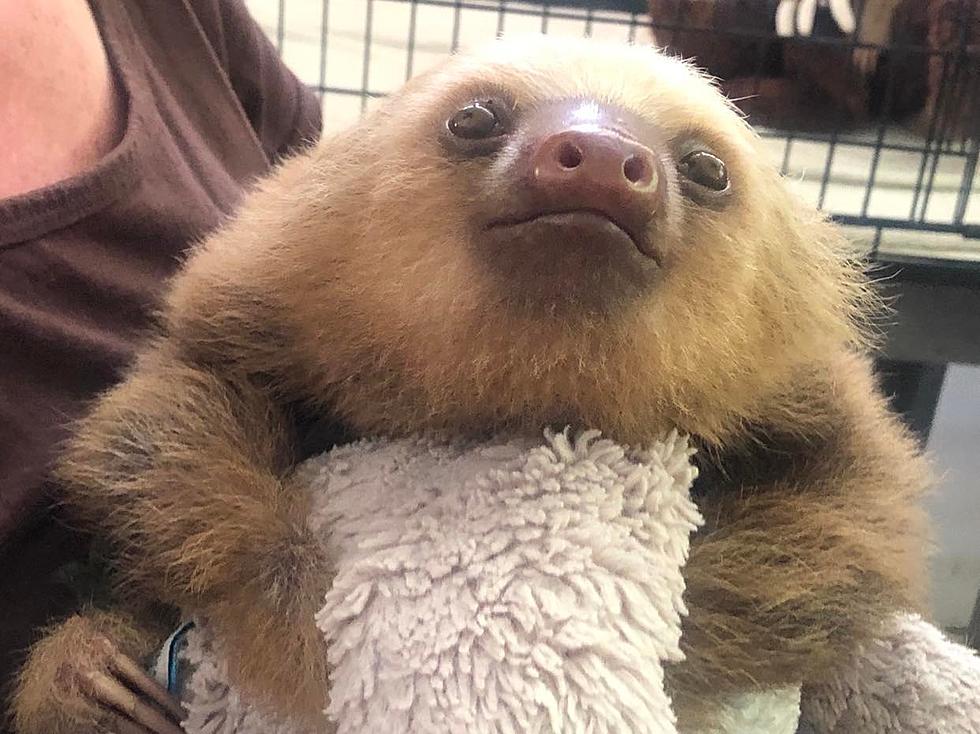 15 Adorable Photos from the Sloth Sanctuary in Costa Rica
WBKR
I recently had a chance to visit a couple of destinations in Central America.  One of them was the absolutely magnificent, heart-warming and adorable Sloth Sanctuary, which rests about thirty minutes outside the port city of Limon.  I researched the sanctuary online, read about their mission and knew I had to visit. So, Kevin and I hired Oscar, who owns and operates Oscar Brown Tours, to pick us up at the port.
After a 30-minute drive along the coast of Costa Rica, with its beautiful stretches of black sand beaches, we arrived at the Sloth Sanctuary.
As you enter the facility, there is a gigantic sloth sculpture on the right hand side of the parking lot.  Naturally, I knew that Kevin and I had to seize the opportunity for a selfie.  And, yes!  There once was such as a thing as the Giant Ground Sloth.  They are now extinct.  Well, except for this one.
Of course, the Sloth Sanctuary likely wouldn't exist without Buttercup.  Buttercup is the sanctuary's most beloved and well-known sloth.  She passed in 2019 at the age of 27, but her legacy remains.  In 1992, she was brought to Judy Avey-Arroyo and Luis Arroya.  They ran a birding operation on the property that is now the Sloth Sanctuary.  Buttercup, as she came to be known, was found next to an adult sloth that had been killed by a car.  The Arroyas, who were huge animal lovers, essentially adopted her, raised her and the sanctuary was born.
While she is physically gone, Buttercup's spirit remains at the sanctuary and she is a daily reminder of the successes of the family's rescue efforts.
After learning about Buttercup and the mission of the Sloth Sanctuary, we got to go meet the sloths who are currently residing there.  They all have different stories that brought them to the sanctuary. Some were electrocuted on power lines.  Some, like Buttercup, were found after a parent was killed. Others were injured by other animals.  Regardless of the scenario that led them to the sanctuary, they are all absolutely adorable and will melt your hearts.  Here are just a few of the sloths we photographed.
Now, THIS is how you take a nap!
The sloth below is completely blind.  The story's tragic and heartbreaking and Nacho, our guide, warned us that we may want to cover our ears instead of listen to the story.  She got entangled in barbed wire and, ultimately, lost her eyes.  However, she has found comfort, safety and familiarity at the Sloth Sanctuary.  As you can see, she was quite content the day we visited.  She almost looks like a koala in that position.
Look at this beauty!
By the way, the Sloth Sanctuary is home to both two-fingered (Choloepus hoffmanni)  and three-fingered (Bradypus variegatus) sloths.
This sloth was incredible animated during our visit.  Shortly after striking this pose . . .
It struck this one! LOL!
Here's some video too!
At the Sloth Sanctuary, you can take one of two tours: 1) The Buttercup Tour, which allows you access to two enclosures where sloths are being rehabilitated.  That's the sanctuary's basic, but informative, one-hour tour.
Or 2) The Insider's Tour, which allows you the same access as the Buttercup Tour, but also gives you exclusive, behind-the-scenes access inside the NICU.  Kevin and I  chose that option and were treated to photo ops like this one!
The neonatal unit was incredibly fun.  In fact, Judy and Luis' daughter, Ursula, personally gave us the tour and introduced us to the sloths currently there.  She shared their stories with us and, even more importantly, their personalities.  This little guy is reportedly quite the sneaky one.  He routinely leaves his habitat, goes exploring inside the facility and makes himself at home anywhere he fancies.
Of course, an important component of any sloth's life is climbing and the infants have to learn how to do it and practice their technique.  The NICU has a miniature jungle gym inside and the sloths love it.  Of course, there's a bigger one outside in the courtyard and they get climbing time out there each day.
Of all the photos I took during our visit, this is one of my favorites.  I mean. LOOK. AT. THAT. FACE!
This photo was a close second!
And, finally, here's a photo Kevin and I took with Ursula.  Her passion for the sloths and the mission of her family's sanctuary was infectious.  The Sloth Sanctuary draws international visitors weekly and all leave appreciating and loving sloths even more than when they arrived.
If you'd like to learn more about the Sloth Sanctuary and how YOU can help support the mission (and even visit like we did), CLICK HERE!
LOOK: Stunning animal photos from around the world
From grazing Tibetan antelope to migrating monarch butterflies, these 50 photos of wildlife around the world capture the staggering grace of the animal kingdom. The forthcoming gallery runs sequentially from air to land to water, and focuses on birds, land mammals, aquatic life, and insects as they work in pairs or groups, or sometimes all on their own.
KEEP LOOKING: See What 50 of America's Most 'Pupular' Dog Breeds Look Like as Puppies