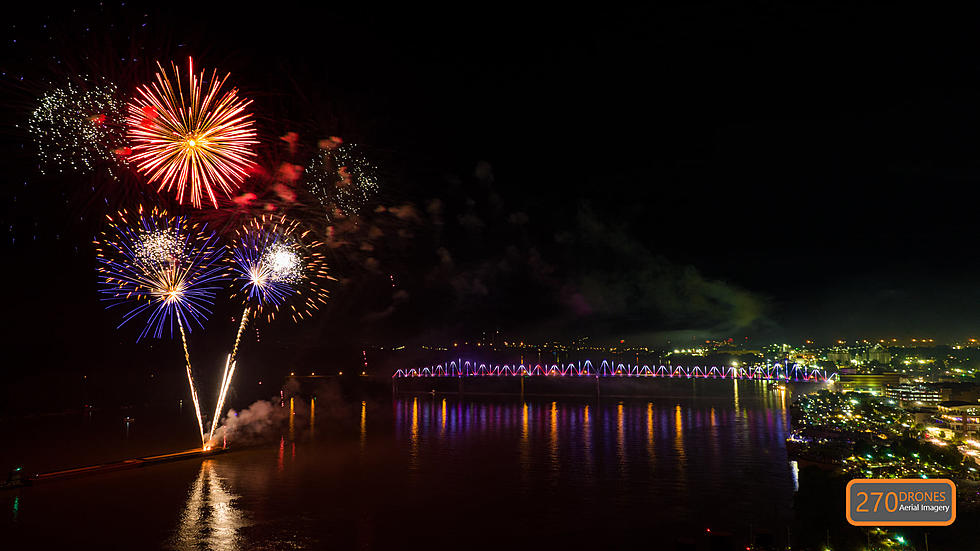 City of Owensboro Announces Plans for the 2023 All-American Fourth of July Celebration
Chris Conley - 270 Drones Aerial Imagery
The bombs will be bursting in air all over Owensboro again this summer. City officials just announced their plans for the 2023 All-American Fourth of July celebration.  The event will again feature fireworks being launched from multiple locations around town, a relatively new tradition that started during 2020 at the height of the COVID-19 pandemic.
According to Tim Ross, Owensboro's Director of Public Events, "the celebration will get started in Smothers Park along the downtown riverfront at 5pm on Tuesday, July 4th."  There will be live music from Whisky Row, who will take the stage at 5pm. They'll be followed by the Downtown Band, who will perform at 7pm.  Then, at 9:15pm, the celebration will come to its rousing, patriotic conclusion with a 15-minute fireworks show launched from several barges on the Ohio River.
Those fireworks will simultaneously launch from three additional locations around the city. Those locations are: Jerry Ray Davis Chrysler Dodge Jeep Ram on Frederica Street (a brand new location this year), the Owensboro Sportscenter/Moreland Park, and the Owensboro Warehouse Leasing/former GE Plant.
And, like we have the last few years, here at WBKR we'll be airing the official soundtrack for the show.
So, regardless of where you are watching the fireworks show, you can enjoy the music the fireworks will be choreographed to by listening through the WBKR app and on the dial at 92.5 WBKR.
Of course, as in years past, the additional fireworks launch sites will NOT be open for public viewing. If you'd like to watch the show along the river, you WILL be able to watch there. However, the Jerry Ray Davis lot, the Sportscenter/Moreland Park area and Owensboro Warehouse Leasing will be closed to viewing on-site.
A big shout out to Meijer and Jerry Ray Davis for sponsoring this year's celebration.
FRIDAY AFTER 5 2023 LINEUP IN OWENSBORO KY
The long-awaited musical lineup is taking shape, as Friday After 5 prepares for a great 27th season with amazing bands, a couple of historic announcements, along with new community and tourism partnerships.
To keep up to date, visit
www.fridayafter5.com
and download the free app to follow the full lineup of events times, and stages for this wonderful family fun-filled "Art of Music" season from May 19, 2023 – Sept 1, 2023.
26 Images That Show How Owensboro Has Changed Over the Years
While driving in parts of Owensboro that have undergone changes, have you ever said to yourself, "I can't remember what it used to look like here"? Well, I'm here to help.