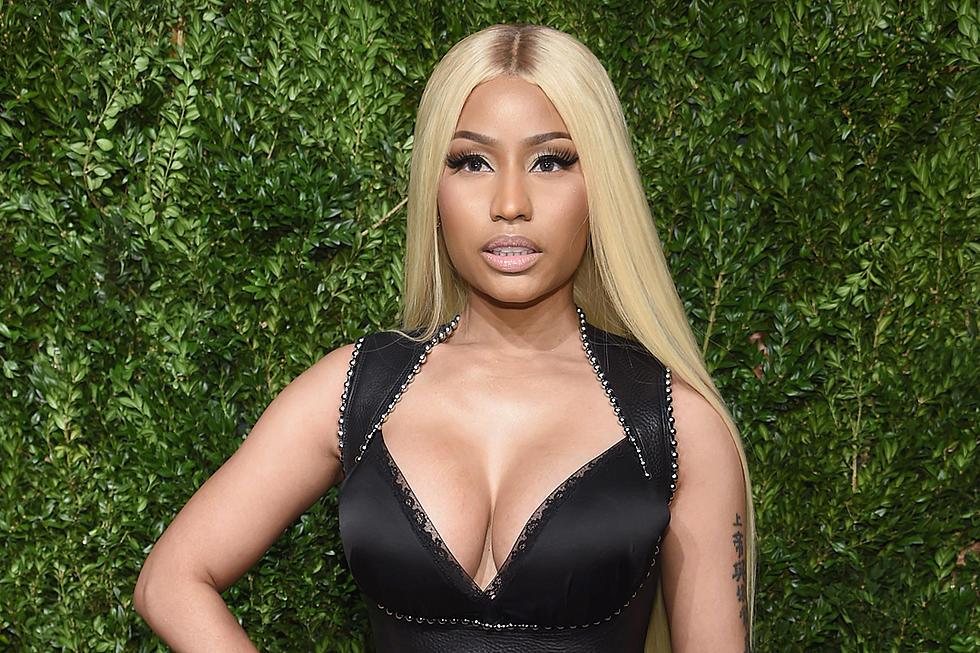 Nicki Minaj to Drop New Songs "Chun-Li" and "Barbie Tingz" This Week
Dimitrios Kambouris, Getty Images)
The Barbz have been on the edges of their seats since the start of 2018 awaiting any update from Nicki Minaj, and today (April 10), she breaks her silence. After teasing fans with what appeared to be a countdown this week, the Queens rapper reveals that she will be dropping two new songs on Thursday (April 12).
Minaj posts the cover art for both records, which appear to be titled "Barbie Tingz" and "Chun-Li," and reveals that the songs will be available to hear at 10 A.M. PST/1 P.M. EST. For "Barbie Tingz," Nicki is seen sporting a colonial-styled royalty outfit while surrounded by four other figures in masks wearing the same thing in different colors. The artwork for "Chun-Li" displays the "No Frauds" entertainer sitting on a chair in a scantily-clad outfit while sporting a fur jacket, two high buns and some thick gold earrings.
It appears that both songs will feature a solo Nicki without any guest features, which definitely keeps fans on their toes as they anticipate what she has been cooking up.
If you recall, the Head Barb in Charge has been staying radio silent on social media since the new year hit, with sources saying that she is keeping her head completely focused on her new album. It looks like the countdown to the project is coming sooner than we think, as we're finally about to get some new music.
Check out Nicki's new cover art for her forthcoming records below.
See Photos of Nicki Minaj's Different Looks Over the Years