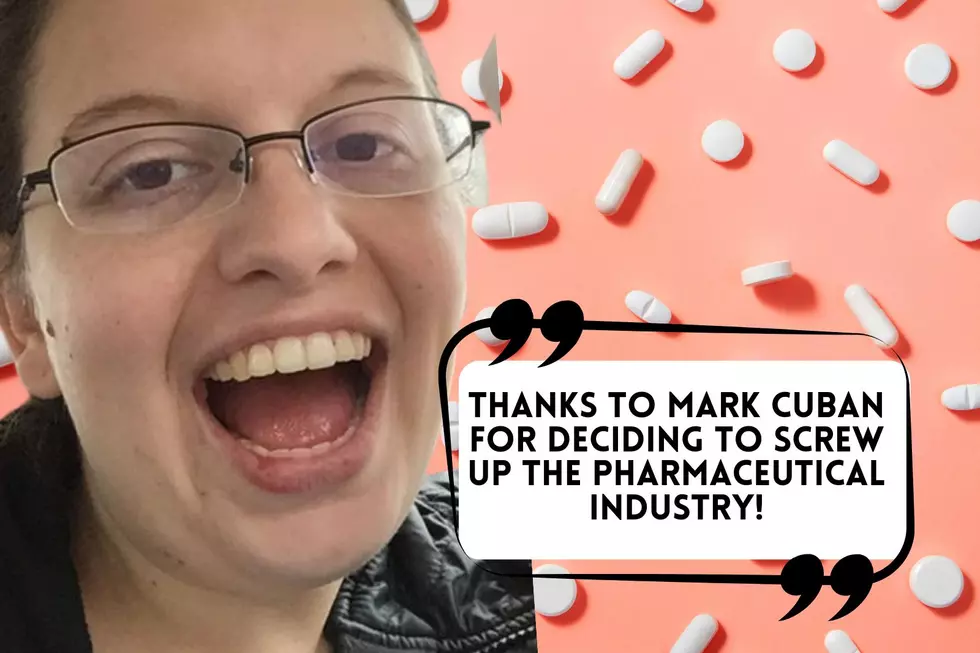 Tennessee Woman Outlines How Much Using a New Online Pharmacy Saves Her a Month
CANVA/Beth Demunbrun
"Everyone should have safe, affordable medicines with transparent prices."- Mark Cuban
Billionaire investor Mark Cuban recently launched an online pharmacy that offers generic prescriptions for a fraction of what you would pay at major pharmacies. Here's some background about how Cost Plus Drugs was started and what prompted Mark to create it.
My friend Beth, who used to live in Owensboro, KY, but now resides in Tennessee, is enjoying tremendous early results with the online pharmacy.  She's going to be saving money on multiple medications that she is prescribed.
A couple of days ago, she shared this on her Facebook page.
So, is Mark Cuban really "screwing up the pharmaceutical industry"? That's a question lots of media outlets are examining.
Beth recently started taking Progesterone, which is a common hormone prescribed for women. To say Beth had some initial sticker shock is an understatement.  She filled her first month's prescription at Walgreens.  The cost, with her insurance, was $72. She did some cost-comparison research and found the same drug on Cost Plus for just $15.60. Beth admits that $8 was added to that (a $3 pharmacy fee and a $5 shipping fee), but at $23.60 is still nearly $50 bucks off.
Unfortunately, Beth wasn't immediately able to take advantage of those cost savings. She asked her physician to send the prescription to Cost Plus, but the doctor was skeptical because she hadn't used the service before and worried it was some type of scam. So, Beth has been getting her Progesterone filled at a nearby Publix. With GoodRX, her cost there is $38.  While that's not $72, it's also not $23.60.
Beth says she didn't really press her physician on the issue because she's only going to be prescribed the medication for a short time. That said, the exploration into the Cost Plus alternative has been an eye-opening experience.
Beth's other medication, which was recently due for a refill, is Levothyroxine- a thyroid medication that she's on long-term. While her dosage is tiny, Beth has to take this particular drug daily.  With GoodRX, she can get 90 pills for $15 at Walgreens. With her personal insurance, the medication is $25. On the Cost Plus site, 90 pills cost just $6.60. Beth's amazed by the savings and says, "I will ABSOLUTELY be using Cost Plus."
Some of Beth's friends are having similar success on the site.
Amanda Pinkie says- Wow!! My glucometer test strips are $30.58 for 100. The pharmacy charged me $64.99 for 100 with my insurance and a coupon.
Stefani Rothermel adds- I've been buying from them for a few months and recommending them to everyone!
Mark Cuban has been making the rounds on TV talk shows and news programs and stands by his claims that his company offers the best prices on hundreds of generic drugs.
As for Beth, she's feeling better than ever.  She adds that she's historically had issues with some of her "western medicine" practitioners and has switched to a functional medicine provider. She says, "It's the best thing I could have done for my health."
If you'd like to learn more about Mark Cuban's Cost Plugs Drugs and to sign up, CLICK HERE!
KEEP READING: See 25 natural ways to boost your immune system