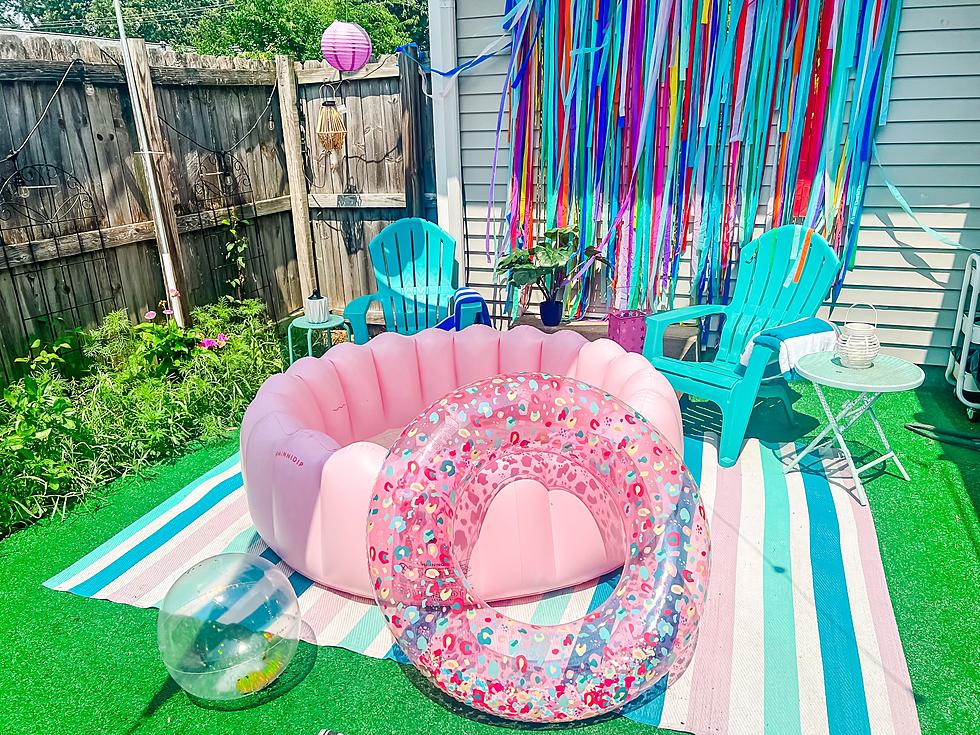 Kentucky Woman Creates Colorful Summer Oasis on a Budget!
Jacqueline Jordan
When the Kentucky summer heat is in full swing, you will not catch me outside unless a water feature is involved! We have a little pool in our backyard, and I LOVE to hop in and float around reading or listening to music. I basically become a lizard  (sunscreen to the max, of course!) just soaking in the Vitamin D!
My friend, Jacqueline Jordan, has created the most ADORABLE Oasis in her backyard and I am SO JEALOUS of her setup. I asked her if she would share her process of transforming her backyard to inspire any of you who may want to do the same. She even included her supply list and where to find the decor she used.
Her backyard had a boring fenced-in patio with no shade or character, so she decided to give it some, and boy did she ever! It is bright, fun, and perfect for summer relaxation.
"I planted wildflowers along the fence and they're just starting to bloom."
"The Tiktok algorithm led me to the pool, which is Minidip brand from Target. It's big enough for 2-3 people to relax in, but it's perfect for stretching out on a float on your own. It's becoming my 5 o'clock ritual."
"I knew I wanted a "pool" and something softer for it to sit on, so I laid down yoga mats from Five Below where it would go and then covered the whole patio with turf from Ollies."
"The streamers on the wall were actually our wedding backdrop from Etsy, but you can make one using strips of disposable party tablecloths. It's under an overhang, so it never gets wet and mostly stays in the shade. So much better than just being in a box in the garage!"
"I found a solar fountain on Amazon and put it in a Walmart pot full of water. As long as the sun is hitting it, it sprays and makes a really peaceful sound."
"I've had these little terracotta pot holders from Amazon for ages. You just hang the hook on a nail and then it holds the planter."
"Pasithea, the Greek goddess of relaxation, looks over everything from the top of the fence."
"The wall of floaties is my other favorite thing. Those are kids' inner tubes for $3 from Target, hung with fishing line on some vinyl siding hooks I found on Amazon. Such a fun pop of color for $10."
Here is her shopping list if you want to make your own sweet little spot!  Of course, you can change it up to match your style!  Thank you, Jacqueline, for sharing this awesome idea! You just holler at me when you want to have a girls' night!
Oasis Shopping List
Taylor Swift Flag - Amazon
Pasithea Pot - Amazon
Flowers - Integrity Nursery
Fountain parts - Amazon
Fountain pot - Walmart
Turf - Ollie's
Striped rug - Lowes
Pool - Target
Floats on the wall - Target
Float in the pool - Packed Party for Walmart
Chairs - Lowes
Sun Sail - Ollie's
Streamer backdrop - Etsy but you can DIY!
Doormat - Ollie's
Plant Some Of These In Your Idaho Garden to Keep Mosquitoes Away
As we previously told you, mosquitoes are the most
dangerous creatures on earth
. If you want to keep them away from you're yard, these plants can help!