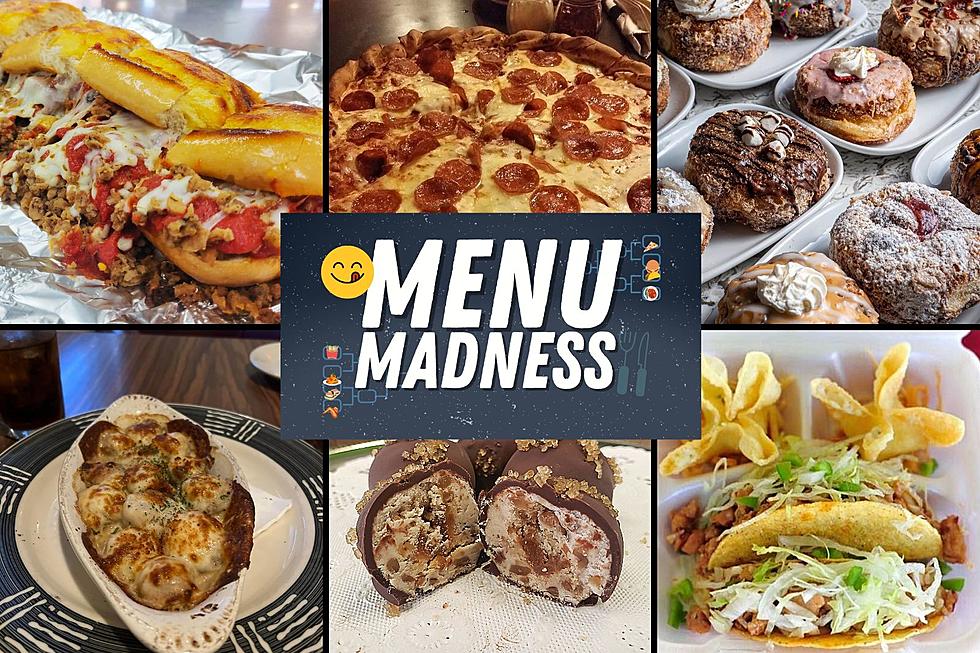 What's the Best Signature Dish in Western KY & Southern IN? [Menu Madness: Round 1 Half-Time Report]
Facebook, Canva, Missy Mosby
We've teamed up with Robert John & Associates to bring you the first-ever MENU MADNESS. The food competition has officially begun, and we are officially in ROUND 1. Thirty-two teams all battling it out to go on to the next level of voting.
How MENU MADNESS Works
The competition is set up as a bracket-style tournament, just like the ones so many of us fill out this time of the year. Each dish needs to get enough votes to beat its opponent and advance to the next round. Following the opening round of 32, we move to the "Sweet & Savory 16," which leads to the "Elite Treat 8,"  followed by the "Flavorful Final 4", and lastly the "Tasty Two."
Round 1 - HALFTIME REPORT
We kicked off voting yesterday and round one ends tomorrow at midnight so we wanted to give you a "half-time report." We aren't giving specifics but the bold restaurant is in the lead for that match-up.
KENTUCKY RESTAURANTS
Giant Pancakes - Dee's Diner
The Mechanicsville Breakfast - Mechanicsville Neighborhood Kitchen
Giant Pancakes - Dee's Diner
The Mechanicsville Breakfast - Mechanicsville Neighborhood Kitchen
Chocolate Long John - Rolling Pin Pastry Shop
Berry Good Donut - Gramp's Coffee & Donuts
Chocolate Long John - Rolling Pin Pastry Shop
Berry Good Donut - Gramp's Coffee & Donuts
Pepperoni Stuffed Breadsticks - 54 Pizza Express
Sweet Potato Biscuits - The Miller House
Cajun Fries - J's Good Grub
Truffle Fries - Lure Seafood & Grille
Salad Bar - Briarpatch
Tableside Guacamole - Papa Grande
Mutton - Old Hickory
Chicken Wings - Mr. B's Pizza & Wings
Maple Glazed Salmon - City Walk of Owensboro
Chicken and Mushroom Carbonara - Niko's Italian Cuisine
The Wonderburger - Wonder Whip
Chili - Big Dipper
5 LB Burrito - Don Mario
The Anaconda - Ernesto's
Pizza Burger - Island Dairy Freeze
Bigfoot Burger - Sluggo's Grill
The Two-Inch Porkchop - Patti's 1880's Settlement
The Hawaiian Ribeye - Colby's
The Mashed Potato Pizza - Fetta Specialty Pizza
Taco Pizza - Hobo Mickey's Pizza House
Banana Pudding - Moonlite
Ice Cream - Mil's Dairy Drive-In
8 LB Pizza - Stellian's
March Crabness - Azzip Pizza
Stromboli - Peezo's Pizza
Stromboli - Rockhouse Pizza
INDIANA RESTAURANTS
Beeria Tacos - Bud's Rockin' Country Bar
Lengua Tongue Tacos - La Campirana
Stromboli Pizza - BJ's Pizza
La Dolce Vita - Franklin St. Pizza Factory
Caps n Cheese - Cork n Cleaver
Bacon Roses - Agape Graze
Oatmeal Cream Pies - Be Happy Pie Company
Kentucky Bourbon Balls - Sweet Schmitt's Candy
Loaded Philly Fries - Lee's Phillies and More
Gator Fries - Catfish Willy's
Family Style Fried Chicken - The Log Inn
Pork Steak - Froggy's Restaurant and Sports Bar
Frog Legs - Yesterdaze
Kibi Nea - House of Como
Beef Stroganoff - Gerst Bavarian Haus
Prime Rib & Portobello Pasta - Prime Time Newburgh
Cinnamon Roll Bread Pudding - Kite & Key
Downtown Brownie - Piece of Cake Bakery
Stromboli - Pizza King
Brain Sandwich - Hilltop Inn
Spicy Sweetness Burger - Hornet's Nest
The Angry German - Papa Bear's Catering
Campfire Donut - Parlor Donuts
Bubble Waffles - Honeymoon Coffee Co.
Footlong Taco - Los Alfaro's
Kong Bao Chicken Burrito - Chino Taco
Tonkastu Ramen - Domo
Pad Thai - Thai Orchids
Double Decker Pizza - Deerhead Sidewalk Cafe & Bar
Pistachio Pizza - Pangea Pizzeria
Italian Salad - Roca Bar
Clam Chowder - Tin Fish
And the 32 dishes representing Kentucky in Menu Madness.
Menu Madness Kentucky Round 1
Now it is time to VOTE. Take a look at the individual matchups and vote for your favorite. Voting for this round ends March 15 at 11:59 PM. Then on March 17, we will narrow the field and start voting in the next round of the tournament.
Thanks for your votes! Now make sure you have our station app downloaded and your notifications turned on, so you'll be alerted when new rounds open!
At the end of the tournament, when there is only one dish standing, we will have a special 'overtime' round, which will pit the winning Indiana dish against the winning dish from our sister station in Kentucky. Then there will be one final vote to see which dish (and which side of the river) reigns supreme!
MENU MADNESS is brought to you by Robert John & Associates. Inured? Get Serious. Get Robert John & Associates.