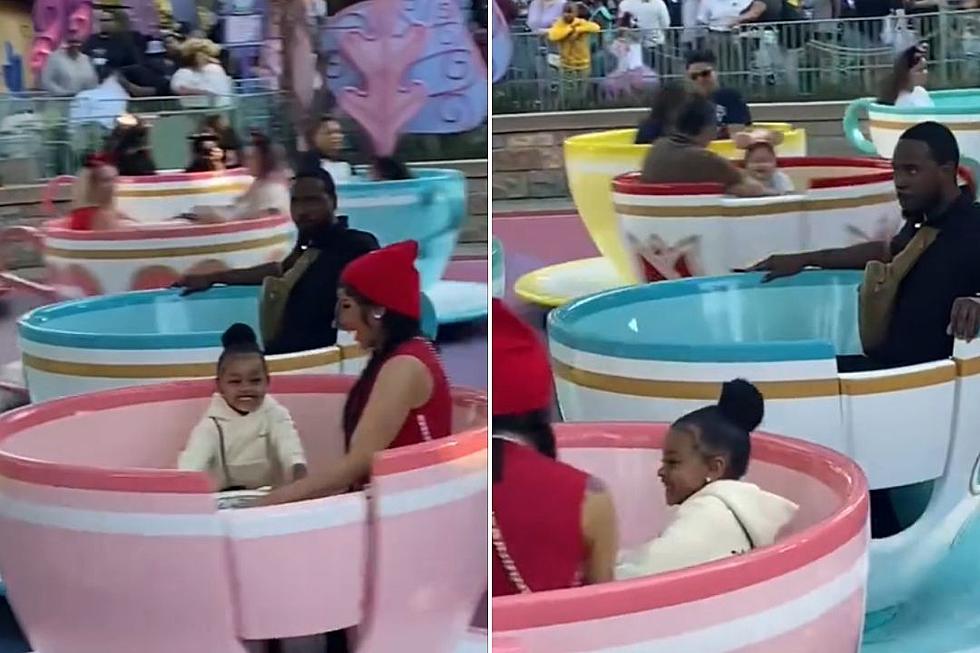 Cardi B's Stoic Bodyguard Looks Hilarious Riding Disneyland Mad Tea Party Teacups: WATCH
@barstoolsports via TikTok
Cardi B's bodyguard won't let his guard down for a moment, not even at the "Happiest Place on Earth."
In a viral video on TikTok, the "I Like It" rapper's bodyguard can be seen acting serious and apathetic while taking a twirl on the whimsical Mad Tea Party teacups ride at Disneyland in Anaheim, Calif.
While Cardi and her 5-year-old daughter Kulture laugh and spin in their own nearby teacup, the rapper's bodyguard keeps a sharp eye out as he rides solo in his own Alice in Wonderland-inspired ride vehicle, never once cracking a smile even as he spins around and around.
Watch below:
Viewers in the comments section had a lot to say about the security guard's stoic reaction to the ride.
"Ngl [not gonna lie] I wanna meet him more then [sic] I want to meet cardi b," one user shared.
"U know he wanna be like 'weeeeee,'" another person commented.
"Bodyguards be crackin me up. Just the scenarios they're put in..." someone else observed.
READ MORE: Wild Bear Sighted in Magic Kingdom at Disney World
"Bro is fighting the urge to raise his arms in the air shouting weeeeeeee," another viewer joked.
"The fact that he ON the ride guarding got me SCREAMINNGG," someone else commented.
Cardi B's Disneyland trip was certainly well-deserved. She and Megan Thee Stallion released their new joint single, "Bongos," on Sept. 8, marking their second collaboration. They performed the track live at the MTV Video Music Awards on Sept. 12.
The pair previously worked together on "WAP," which hit No. 1 on the Billboard Hot 100.
25 Not-So-Magical Incidents at Disney Theme Parks
From ride malfunctions to guest outbursts and Animatronic fails, these incidents at Disney theme parks were so not Mickey Mouse-approved.