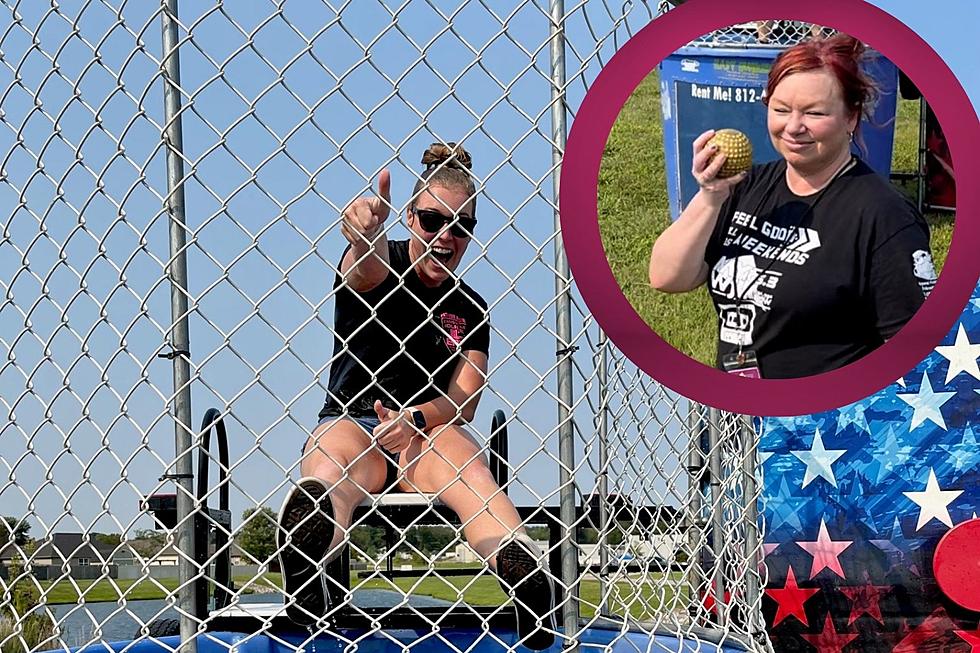 Hilarious – Here's the Video of Liberty's Dunk Tank Fail [WATCH]
PHOTO: LIBERTY
Last Saturday Bobby and I had the opportunity to broadcast from the Full Throttle Automotive Cruise-In and Charity Car Show. The event raised money for our local First Responders. Part of the fun was seeing our friend, Evansville Police Department's Special Projects Coordinator Taylor Merriss, get in the dunk tank.
Throwing a ball at the dunk tank target is supposed to be so easy that little kids can do it; And it is, as long as you are not me. Now, Bobby has had the pleasure of seeing me play cornhole and skeeball. Let's just say it isn't pretty. In fact, you should not be within a ten feet radius of me when I throw anything. I can be looking directly at my target, and whatever I'm throwing, in this case, it's a baseball, seems to go the opposite direction.
Video or it didn't Happen
Oh yes, there is the video of my epic fail dunk tank throw. We also have a video of Bobby's professional throwing technique.
Perhaps I should've thrown it underhand, maybe that would work better for me...But I doubt it. We had Taylor in the studio to talk about her new Suicide Awareness partnership with Deaconess and Townsquare Media (On-Demand below). But first, we needed a recap of how my epic fail looked from her point of view.
10 of the Most Ridiculous 9-1-1 Calls from EvansvilleWatch
If you hear sirens and want to know what's going on, EvansvilleWatch on
Facebook
is the best place to look. They do an excellent job of listening to the police scanner in the Vanderburgh and Warrick county areas and posting updates as they come in. Most of the calls are routine, but I found several that had me shaking my head!
See the Deaconess-Evansville Police Suicide Prevention Cruiser
The police cruiser is a joint effort between Deaconess Health Systems and the Evansville Police Department for the purpose of promoting suicide prevention options in the area.
Cops Connecting with Kids 2021 Disney Trip
The mission of
Cops Connecting with Kids Inc.
is to build positive relationships between members of the law enforcement profession and the youth in their local communities, through open and honest channels of communication, mentorship, and connectivity.