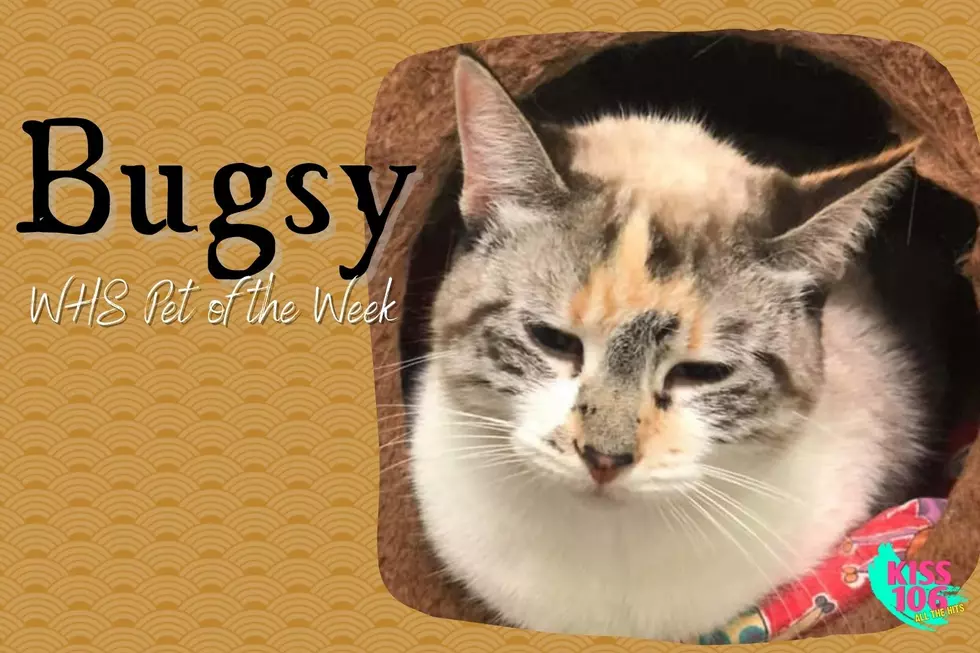 Hello, My Name is Bugsy and I'm a Lynx Point Siamese [WHS PET OF THE WEEK]
WHS
Hey sweet people, my name is Bugsy and I am a female Lynx Point Siamese Cat. If you are unfamiliar with my breed, the Lynx Point is a blend of the traditional Siamese and tabby cats. We are talkative, affectionate, curious, and into everything! I am only a year and a half old - but I have found myself here looking for a new home. I'm a good girl and am ready to be a new member of your family!
Currently, the WHS is hosting a cat and kitten special. Cats like Bugsy are only $30 and kittens are $50. Not a bad deal at all when you think about how much it would cost to spay or neuter and vet and new cat. Plus you are saving two lives - the cat you take and the cat that gets to fill their empty spot!
Last week's pet is still available!
Hello. I want to be your friend! Can I be your friend, friend? My name is Saben and I have just met you and I love you! SQUIRREL! Friends say I look like Dug from a movie. I like looking like a dog from a movie!
May I tell you something? I am sad to say I have lived at the shelter for a little bit. And I am sad because oh boy do I want a master! Will you be my master? You should be my master because I love you!
Like the movie dog I am also a Golden Retriever mix! People who are not my master said the Golden Retriever is mixed with Great Pyrenees like I am a cake. I like cake. I love you. They also say I am only one years old so I am still a puppy. I have a lot to learn about manners but I am a good boy. I promise! And I love you so I will do anything you ask, Master!
Did I tell you that I hate squirrels but I love you? I hope that squirrel gets dead. I hope I get to come to your house for forever soon.
If you are interested in any of the animals up for adoption at the WHS, please be aware of their current COVID-19 policies.
Adoptions are by appointment only - please fill out an adoption application online, and we will contact you to set up an appointment. Applications can be found here: https://warrickhumanesociety.org/adoption-info/
We will schedule three adoption appointments per hour, and only two people per family/group will be allowed in the shelter at one time. This will allow for people to spend time looking for the right pet while practicing social distancing. Additional people/family members will be allowed to wait outside and the pet (dogs only) can be taken out to meet with them. This will also allow ample time for staff to properly clean between each adoption.
Masks are required by everyone while in the shelter. Please bring your own mask. If you do not have one, the shelter has some for purchase for $1 each.
To keep traffic to a minimum, we will not be allowing volunteers inside the shelter at this time. We will have things for volunteers to do outside. If you're interested, please email volunteerwarrick@gmail.com.
Warrick Tails on Trails has started up again! Please watch their Facebook page for details!
Enter your number to get our free mobile app
OTHER STUFF HAPPENING AT THE WHS
If you want to adopt but can't, consider donating something to the shelter. They are currently in need of: Cat litter - any brand, laundry detergent - any brand HE, and bleach. There are also some upcoming fundraisers and events.
LIKE THE WHS TREE AT EVV
#LIKE YOUR FAVORITE TREE🌲 -- As part of EVV's 3rd Annual "Festival of Trees," 12 tristate nonprofits helped us turn the airport terminal into a winter wonderland of festive trees. The agencies are competing for the most Facebook "likes" on their tree images, and the two organizations with the top "liked" trees will be awarded cash donations from EVV totaling $1,500! Voting ends on Dec.31, 2020; winners will be announced shortly thereafter.
Supply Drive for the WHS
WHS Etsy Shop Open
Pot of Dough Fundraiser
Set An Extra Space for a WHS Rescue Dog this Year🐾 Here's How To Become a Host Family for WHS FriendsGiving this year!
🐾Fill Out An Adoption Application online & in the Name put FRIENDSGIVING
https://warrickhumanesociety.org/adoption-info/
🐾The Shelter Will Contact You To Schedule a Meet & Greet with Pick Up on either Tuesday November 24th or Wednesday November 25th from 12pm-4pm. You can bring your own dog for the Meet & Greet
🐾This Will Be First Come First Serve for Picking Dogs for FriendsGiving By Appointment
🐾All Supplies will be Provided including a Crate if Needed
🐾Drop Off will be Scheduled on Friday, Saturday, or Sunday from 12pm-4pm.
🐾If You Fall In Love You Can Adopt & Will Receive 25% Adoption Fee for being a Host Family See Less
Keep a Lookout for Tigger
Enter your number to get our free mobile app