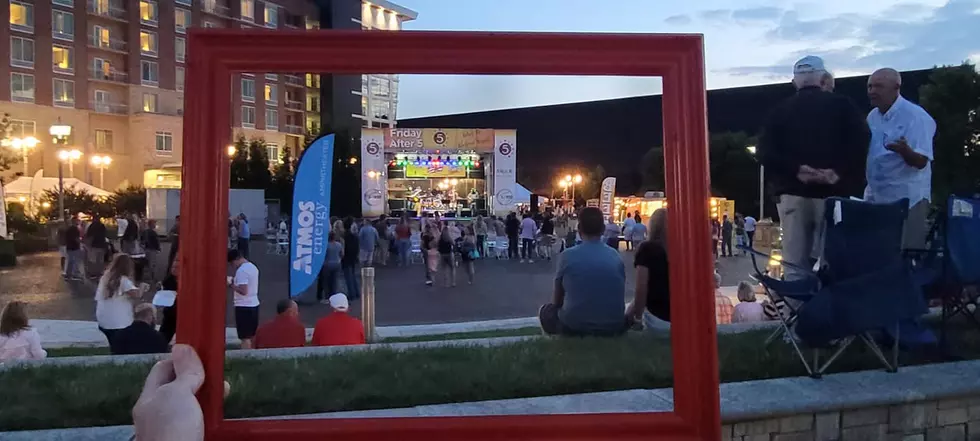 Can You Believe It? Only Two Weeks Left of Friday After 5 in Downtown Owensboro
Friday After 5
How time flies when you're having fun! The 26th Season of Friday After 5 in downtown Owensboro is winding down. Believe it or not, there are just two weeks left.  And, before Friday After 5 wraps up the season with an absolutely epic 80s party starring The Motels, When in Rome and Bow Wow Wow, they're welcoming some incredibly fun bands to celebrate the penultimate week of the FREE music festival.
Here's a look at this week's action-packed lineup!
CASEY & ROMY
JAGOE HOMES RIVERFRONT LIVE STAGE (6pm-9:30pm)
San Diego-based Casey & Romy will be playing your favorite rock hits and more!
GLASTONE
RUOFF PARTY STAGE (8:30pm-11:30pm)
Glastone will bring a high energy party to the Ruoff Party Stage on the Pier behind the Owensboro Convention Center. They play everything from classic rock to funk.
ROCKTURNAL EMISSIONS
ATMOS AMPHITHEATRE (6pm-8pm)
Rockturnal Emissions will be playing hits from classic rock, country and blues on the Atmos stage at McConnell Plaza.
BLACKSTONE
ROMAIN SUBARU OVERLOOK STAGE (7pm-9pm)
Exactly as billed, Blackstone will be serving up your favorite classic rock and roll.
HOT BROWN SMACKDOWN
LURE (7pm-10pm)
Hot Brown Smackdown is a 6-piece "newgrass" fusion band from Louisville and will be playing a set full of bluegrass infused with groove and soul.
Of course, you can be the star of the show as well. The VFW Post 696 will be hosting karaoke that gets underway at 7:30pm and runs through midnight.
26 Performers Who Appeared at Owensboro's Executive Inn Showroom Lounge
There's rarely a conversation I have about the Executive Inn that doesn't lead to someone (myself included) wishing it was still here. So many big names and FUTURE big names performed on that Showroom Lounge stage.